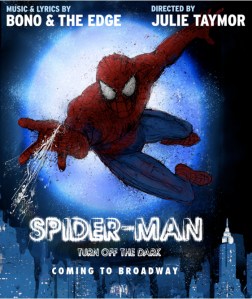 With each new injury, poor review, or pushed-back premiere date, Spider-Man: Turn Off The Dark's once-massive hype edges closer toward notoriety. With the injury count at three, the stars of other Broadway shows have called for its cancellation. And when actress Natalie Mendoza vacated the role of lead villianess Arachne — an unruly rope left her with a concussion and presumably an unflattering bruise — Turn Off The Dark was down an integral castmate. Are the webs that tenuously hold this Broadway extravaganza together about to break?
Well, not quite yet. The most expensive musical in the history of New York City shall endure now that lead producer Michael Cohl has named T.V. Carpio as the new Arachne, The New York Times reports.
Out hearts go out to this brave T.V. Carpio, the actress now in the most dangerous role on Broadway. Let's hope the web-slinging keeps the cast aloft.
nfreeman at observer.com |@nfreeman1234
Click for Scandal Report: And Then The Model At Diddy's Party Burst Into Flames