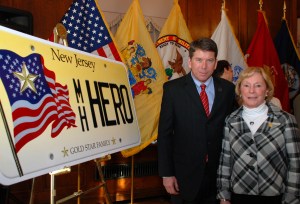 TRENTON – New Jersey unveiled new license plates to honor fallen veterans on Monday.
Gov. Christie signed legislation in the War Memorial boardroom authorizing production of the new plates.
"The families here today are a living memorial to those men and women who gave their lives,'' Christie said to a room packed with veterans, family members and legislators.
When drivers see these plates, Christie said, "People will be reminded not only of the sacrifices that they made, but of the lives that endure.''
The plates feature the word HERO to the right of the letters M on top of an H, which stand for Military Hero. An American flag is depicted on the left side of the plate, which has a soft yellow background.
The phrase Gold Star Family graces the bottom of the plate.
Gold Star Families are those who have lost an immediate family member in war, not just the current conflicts overseas but in any war, according to Judy Tapper, president of the N.J. Department of Gold Star Mothers.
The plates are not available to the general public, but specifically for those who have lost a spouse, parent, child or sibling in wartime, according to Tapper and Raymond Martinez, chairman and chief administrator of the state Motor Vehicle Commission.
The law also applies to stepparents and adoptive parents.
Unlike with some other specialty plates, there will be no extra cost for ordering these license plates, Martinez said. The design has been approved, and he and the governor said the process of approving this bill and producing the plates was on a fast track.
Tapper, who lost her son David, a Navy SEAL, in Afghanistan, said such an honor has never been utilized in New Jersey before.
"The sacrifice of our fallen heroes is a tremendous loss not only to their families but to America. They need to be honored and remembered," she said.
The bipartisan legislation had numerous sponsors in both chambers.