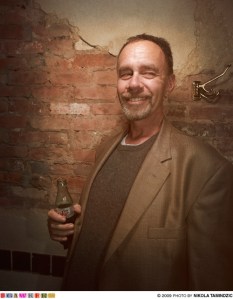 Each year Sundance chooses one ingenue to launch into critical acclaim, awards nominations, racy photo shoots and double-digit million dollar roles.
In 2009, it was Carey Mulligan, who, after a beloved turn in An Education, is now poised to play Daisy Buchanan in the most important 3-D film of our time. Last year, it was Jennifer Lawrence in Winter's Bone, a shoe-in for an Oscar nomination.
And this year the early buzz points to someone a little older, more experienced, but capable of a rawer and better-trending performance than the next PYT on the indie conveyor belt: New York Times media reporter David Carr.
The humble hero of the Times media desk documentary, Page One, Carr already has one critic in his corner. Nicole La Porte of The Daily Beast writes:
At the heart of the story is Times media columnist David Carr, whom Rossi rightfully recognizes as the humanizing way into his tale. (In fact, the project was initially supposed to be just about Carr, but when Carr felt he couldn't do his job while having a cameraman trailing him at all times, he suggested that Rossi paint a broader picture of the paper.) A former crack addict and memoirist, Carr could at times be mistaken for a tramp and stands out like a sore but beloved thumb amongst the buttoned-down, gravelly-voiced ranks of Timesmen (they are almost exclusively men) presented in the film.

But for all of his outward idiosyncrasies, Carr is a soldier mired in devoted and loyal service to the Times, making him all the more crucial to Rossi's tale, which trades on a heartfelt nostalgia for the valor of print.
According to Twitter reports from the festival, the Times media ace is beloved by the little people, too. indieWIRE co-founder Eugene Hernandez writes:
"Standing O for rock star journo @carr2n at PAGE ONE q&a. Doc's not just abt changing media, but changing definition of journalism."
He's also got what looks like the early signs of a fanatical following. Twitter user JennDUBS tweeted about Carr and the film five times within the hour after the premiere.
Obsessed and intrigued by @carr2n after seeing #PageOne . Amazing commentary on the state and future of print media. I'm a new daily reader!

@carr2n After the Q&A for #PageOne you officially went on my list of the 5 ppl I would want at my ideal dinner party!
Carr is spiraling into ingenuity so fast the backlash has already begun. A rival wrote:
Standing ovation for @carr2n as he goes up to speak at end of #pageone. He's going to be impossible now
kstoeffel@observer.com :: @kstoeffel