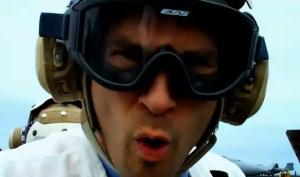 New York Times technology reporter David Pogue is not afraid to be a nerd on camera, as he's proved with many a cheesy video gadget review. He does voices. He'll put costumes on. He'll enthusiastically deliver the most painful puns. A Pogue gadget review is a production. Rember the iPhone music video?
He's equally geeky and lovable as host of the new PBS miniseries "Making Stuff: Stronger, Smaller, Cleaner, Smarter," premeiring next week. "We're like the Starsky and Hutch of science nerds!" he shouts at one point before climbing into a racecar.
The show is about advanced technology like invisibility cloaks, spider silk that is stronger than steel, and military tanks that heal themselves from gunshots. Pogue swims with sharks, hang glides and milks a goat. It looks awesome!
There will be a live screening on Wednesday at Rockefeller University, where Pogue will give a talk before airing the episode at 9 p.m. Video preview below.
ajeffries [at] observer.com | @adrjeffries
Watch the full episode. See more NOVA.