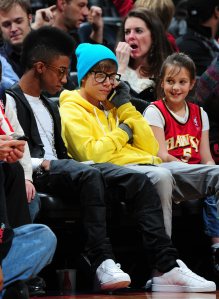 Despite the skeeviness associated with his persona, Terry Richardson's style of photography has become something of a lingua franca in the field. You can see his signature white-wall sexed-up shoots on magazine covers — like the GQ cover with barely clothed "Glee" kids or, um, James Franco in drag. And although there's no indication Mr. Richardson was directly involved, you can see his mark all over the "Skins" posters plastered across the C train. MTV needed to make the show as scandalous-looking as possible, and the Terry Richardson approach was the only way to go.
Brilliant idea alert: let's get Terry Richardson's lens in the same room as Justin Bieber. The Love Magazine, a twice-yearly fashion glossy known for flashy model pics gracing the cover, chose perennial trending topic Justin Bieber to grace the newsstands for its fifth issue. Maybe the magazine will sell a billion copies now, or something.
How did Terry deal with the pint-sized superstar? It's way close up, uncomfortably so perhaps, and Mr. Bieber's fetishized haircut is brushed in a certain way — this is Love's "androgyny issue," after all. The tagline is "The Beautiful One."
We'll post the picture in a second, but we'd be remiss to not direct you to The Love Magazine's website, where you can see the second cover: Kate Moss locking lips with transsexual model Lea T. Also worth checking out.
Anyway, here's the cure for your Bieber Fever.
Click for Scandal Report: Champagne Mania Makes for A Boozy Golden Globes