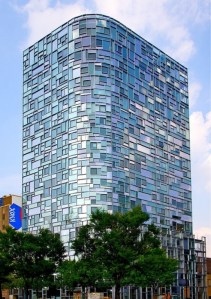 Larry Mueller thinks he has found the next 15 Central Park West: "We were very interested in One Madison Park–those full-floor apartments are just magnificent–but when that got in complete trouble, we moved on to the Nouvel building."
That would be 100 11th Avenue, that shattered-mirror of a condo on starchitects row–the block of 19th Street includes Frank Gehry's IAC Building, Shegiru Ban's Metal Shutter condos and Annabelle Seldorf's 520 West 19th Street, as well as her "sky garage" tower just up the avenue, where Domenico Dolce and Nicole Kidmann live.
Mr. Mueller, the former CEO of e-commerce company Ariba, just bought one of the two 19th-floor condos at 100th 11th for $5.74 million. There are three bedrooms, three and a half baths and sweeping vistas of downtown and the Hudson, though the 2,674-square-foot unit lacks the dynamic curved living room of the neighboring apartment.
"His architecture really spoke to me," Mr. Mueller, speaking from his home in Denver, said of the Pritzker-winning Frenchman. "Every window perfectly frames a different view of the city, like a picture window of the Empire State Building. The views, the access to the High Line, and being able to walk to the Villages, I think it will be a great investment."
Indeed, this is not simply a pied-à-terre for Mr. Mueller. No, he is of the elite class of apartment collectors who, retired and wealthy, trades luxe homes, jet-setting between them for business and pleasure. And business is booming.
Before buying at 100 11th, Mr. Mueller owned a 25th-floor condo at best-selling-building-of-all-time, Robert A.M Stern's 15 CPW. Located on the coveted D-line, which has views of both the park and the Hudson, the three-bedroom, three-and-a-half-bathroom unit (notice a trend?) was bought by Mr. Mueller in December 2007 for $6.1 million and sold in January 2010 for $13.73 million. "When it hit that price point, it was time to sell," he said.
So has Mr. Mueller spotted another winner? Why not ask his new neighbor, Kelsey Grammer, who also made the move from 15 CPW to the 19th-floor four-bedroom next door. The actor bought his unit a month before and paid $6.4 million. Both pads were listed by Douglas Elliman brokers Holly Parker and Trisha Riedel.