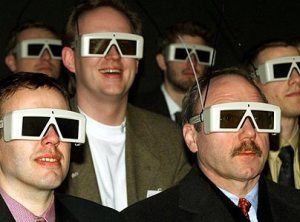 Speaking at the DLD conference in Munich yesterday, James Murdoch, son of Rupert and head of News Corp.'s operations in Asia and Europe, said the currently-delayed tablet newspaper The Daily would appear in "a few weeks."
He didn't have much to report beyond that. The newspaper will still cost 99 cents a week and focus on journalism, not digital bells and whistles.
That last part runs contrary to what Peter Kafka wrote this morning.
"People familiar with the Daily tell me plans for future editions off the app include a gee-whiz feature which will allow correspondents to offer readers a 360-degree view of whatever they're talking about."
3D video! You can't get that in some silly print edition. Check out an example of how the technology might work in this crazy 3D Doritos ad.
bpopper [at] observer.com | @benpopper