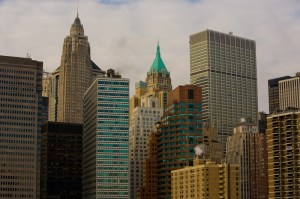 One of the great creations of the real estate boom was "FiDi." As many old office buildings grew obsolete, instead of tearing down the historic warren of grand towers surrounding Wall Street, developers, with the city's encouragement, began converting them into apartments. The Financial District became, well, the Residential District.
Yet, just as traders played fast and loose with CDOs and CDSs, developers did not think through many of their new projects, a good deal of which came online just as the market was collapsing. They, like many a bank account these days, have been largely empty ever since. The Journal reports today that a number of Financial District projects are beginning to come back to life, even as FiDi is "showing less swagger than what developers once envisioned."
The new owners of William Beaver House, for instance, are slashing condo prices. The creditors of the Setai Wall Street are selling their defaulted loan, a move expected to help closings resume there. The lenders to 25 Broad Street are foreclosing on the property, paving the way for converting it to rentals.

"People in the Financial District got a little over-ambitious, both in terms of prices and concepts," says Frederick Peters, president of Warburg Realty. He said some developers became so obsessed with luxury amenities, they lost site of such basics as floor plans. "You can't sell amenities and not the unit," he says.
But heck! Who needs windows when you have a lap pool inside an old bank vault?