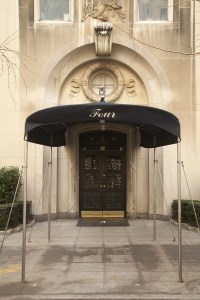 Real estate runs in Aaron Tighe's blood. Not only is the Credit Suisse managing director the son of Mary Ann Tighe, a CB Richard Ellis CEO and the chair of the Real Estate Board of New York, but he also got a 25 percent discount on his new home at 4 East 72nd Street, the 15-story co-op Carter B. Horsley called "one of the city's most elegant and distinguished apartment houses."
That is not to suggest that Mr. Tighe and his wife Kimberly got a good deal because of any insider connections. It simply seems the invisible hand worked against John Bartlett Coleman, who is best known for transforming the Navarro on Central Park South into the new Ritz-Carlton.
Mr. Coleman first listed the grand four-bedroom, four-and-a-half bath duplex with Sotheby's Meredith Smyth and Serena Boardman for $7.75 million in May 2009. A. Laurance Kaiser bagged the listing a year ago for $6.9 million, cut the price to $6.5 million in September, and it has now sold for $5.825 million, according to city records. Nicely done, Mr. Tighe.
SLIDESHOW: The Upper East Side Duplex That Inspired the Ritz. >>
For their effort, the couple, who are leaving the far less grand 985 Fifth Avenue, have secured their own Ritz-Carlton in miniature. As People declared in April 1983, five months after the hotel opened, "What's good enough for Coleman had better be good enough for his guests, for the Ritz is really a larger version of his elegant East Side Manhattan duplex." So if you have ever been to the Ritz, now you basically know what the Tighes' new home is like.
Mr. Tighe declined to comment and Mr. Kaiser could not be reached for comment, but his listing notes "a sweeping staircase leads to the grand Living Room with fireplace and three long French windows while a large formal Dining Room adjoins providing an ideal flow for entertaining." Like all prestiguous Upper East Side co-ops, "high ceilings, beautiful moldings, and classic architectural details are all part of the residence's elegant and traditional appeal."
Also like all prestiguous Upper East Side co-ops, units rarely move. According to StreetEasy, the last purchase in the building was the duplex downstairs, a three-bedroom, five-and-a-half bath number that Myrna Ronson bought in 2008 for $7.75 million.
See! We told you Mr. Tighe was a heck of a dealmaker. Though Ms. Ronson is no slouch herself, having set the co-op sales record at 2 East 67th Street. Surely she could afford a million or two extra.
SLIDESHOW: The Upper East Side Duplex That Inspired the Ritz. >>