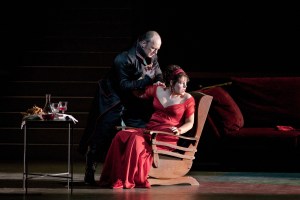 For the kind of wrenching, blatantly ironic flourish that opera is known for–"You should know that was your brother you just killed"–there's really nothing that can beat the end of Giacomo Puccini's Tosca.
The audience watches as dawn breaks over a prison in Rome. The year is 1800. Just a few minutes ago, we heard Scarpia, the corrupt, lecherous police chief, promise the title character, an opera diva, that Mario Cavaradossi, her condemned lover and a political prisoner, will be spared. The firing squad will have blanks in their rifles.
Alone with Cavaradossi, Tosca, the consummate actress, directs his fake death. She tells him to fall at the first shot, but to be careful not to hurt himself. "With my experience in the theater," she says, "I'd know how to manage it."
"And fall down properly," she orders him mockingly.
"Like Tosca on the stage," he adds with a laugh as the soldiers pull him against the wall.
When they finally fire (Scarpia has, of course, lied, and the blanks, unbeknown to her, are real bullets), she calls out amid grand military march music, "There! Die! Ah, what an actor!" And as the soldiers file out, just before she discovers his (very) dead body, she whispers, "Oh, Mario, do not move! They're going now. Be still! They're going."
In the annals of opera's deliriously excruciating moments, this small but insane meta-moment reigns supreme. That the opera ends a minute or two later with Tosca jumping off the roof–singing a high B flat, no less–is just icing on the cake. The whole work is perfect melodrama, several times over: by Puccini, the master of intensely melodic emotional manipulation, and based on a play that Victorien Sardou (whose advice to young playwrights was, simply, "Torture the women") wrote for his muse, the definitive 19th-century tragedienne Sarah Bernhardt. Tosca became one of Bernhardt's signature roles; it was while jumping off the prison parapet during a 1905 performance in Rio de Janeiro that she injured her leg, which later had to be amputated. (The interweaving histories of the play, opera and actress are explored in David Greenspan's rough but promising new play Jump, presented last week in a workshop production as part of the Public Theater's Under the Radar festival.)
So famous and influential was Bernhardt's portrayal of the play's Tosca that operatic Toscas are still expected to do bits of stage business that she incorporated into the work more than a century ago. The result is that few operas have a visual feel and performance practice as frozen as this one. It's resulted in such hypernaturalistic projects as an Emmy-winning 1992 live broadcast of the opera from the actual settings in Rome, and Franco Zeffirelli's lavish 1985 Metropolitan Opera production, which got as close to those actual settings as a stage show could.
Mr. Zeffirelli's shameless opulence was laughable in 1985 and became even more so as the years passed, but Tosca was able to take such treatment, and even benefit from it. Puccini was famously detail-oriented, and there is nothing general about Tosca. The work is precise about places as well as the month, the year and the times of day in which it takes place. The opera is gloriously limited, and that is the source of its power. It knows what it is, it knows every musical and theatrical trick in the book, and it pulls them all off as well as any work ever has.
A comparison with another famous 19th-century diva vehicle is instructive. Verdi's La Traviata–which the composer originally called, in keeping with its aspirations to archetype, Love and Death–is about more than a consumptive prostitute; it's about society, gender, power. An abstract production of Traviata–like Willy Decker's acclaimed new one for the Met–is workable because any setting is just a vehicle for its broader themes. That doesn't mean stinting the "human story." The characters and their struggles emerge through the presentation of those themes as much as vice versa.
Tosca, on the other hand, while also a brilliant work of music theater, is about nothing more than what it's about: the collision of an opera singer, her lover and a police chief in Rome in June 1800, during the Napoleonic Wars that give the opera its political context. It has no pretensions to grander themes or deeper meanings. It is a riveting theatrical machine; you just have to turn it on.
Although Mr. Zeffirelli's overstuffed Met Traviata productions felt suffocating, then, his realistic Tosca felt right (or closer to it, at least). It's no coincidence that the Zeffirelli productions that have lasted longest and been most beloved have been for Puccini operas. Like the director's work, these operas are "about" nothing broader than what they're about.
Luc Bondy's production, which was booed when it replaced Mr. Zeffirelli's on opening night of the Met's 2009-2010 season, seemed intended to restore shock and theatricality to the opera. It is still, a season later (it runs through April), full of ideas, as if Mr. Bondy has been assiduously searching for some "there" there. It was a strategy that had worked with his Salome, which played several European houses, but here he is up against an opera that refuses to give an inch to ingenuity. Mr. Bondy takes away Mr. Zeffirelli's traditional Roman settings–the opera seems to be taking place in some confused amalgam of 1800, 1880 and 1950 Italy–and removes most of the famous Bernhardt interpolations.
The result is a Tosca that, rather than showing new theatrical fire, is unaccountably dull. Sondra Radvanovsky, the genial star of this year's revival, lacks the edge to put over Mr. Bondy's chair throwings and portrait rippings. (To be fair, even the game Karita Mattila, who opened the production, couldn't make all that work.) In place of the iconic Bernhardt ending of Act II–when Tosca, after murdering Scarpia, turns suddenly prayerful, placing candles on either side of the body–this Tosca sinks exhausted to the couch, fanning herself slowly, like a Tennessee Williams character. It's understandable, and admirable, to want to break through ossified performance traditions, but Mr. Bondy's replacements just don't play.
That Ms. Radvanovsky anchored her vocal performance entirely to an excellent rendition of Tosca's Act II aria, "Vissi d'arte," didn't help. Elsewhere she offered gleaming high notes, but her pitch was frequently off in the first act, and she sounded edgy in the third, by which point Mr. Bondy's production turns utterly listless. (Cavaradossi, played by the ardent last-minute replacement Roberto Alagna, now, bizarrely, plays Seventh Seal-esque chess with his guard.)
The musicologist Joseph Kerman will never live down calling Tosca a "shabby little shocker" in his 1956 book Opera as Drama. But his point, about the opera's savage effectiveness and the smallness of its scope, is true. When it is good, there is no more gripping night at the theater, but on its own limited terms. Mr. Bondy is hardly afraid of truly operatic intensity, but he gives it all to Scarpia. His conception of Tosca as occasionally violent but generally passive shows that he is trying to rethink the character. But he's doing that in an opera that doesn't reward such creativity, in which brilliance, more than elsewhere, really does result from hewing to the standard script.
zwoolfe@observer.com