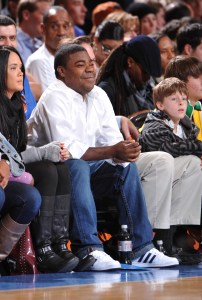 Tracy Morgan has the best job security in America. His character on "30 Rock" syncs up nicely with his actual persona, though he's just a bit more profane when inhabiting the guise of Tracy Jordan.
Just a bit more profane. Last night, the real-life Morgan walked out of his courtside seat at the Knicks-Heat game at the Garden, and engaged in a nice chat with Charles Barkley and Kenny Smith, live on TNT's "Inside the NBA." Like anyone with any reporting chops would do, Smith asked Tracy Morgan a question that was sure to elicit a ridiculous response.
"He's the only one who can settle it," Smith explained. "Tina Fey or Sarah Palin?"
Barkley intervened.
"Sarah Palin's good-looking, isn't she?" he said.
And then Tracy Morgan's response! Let's just say it was bad enough that TNT crawled out of bed to issue a response.
Do yourself a favor and watch below, because the content is too much for us to even write about.
(Kidding! Tracy said Palin is "good masturbation material." There. Got that out of our system.)
http://www.youtube.com/watch?v=xdmYAYBgDIo
nfreeman [at] observer.com | @nfreeman1234
Click for Scandal Report: Champagne Mania Makes for A Boozy Golden Globes