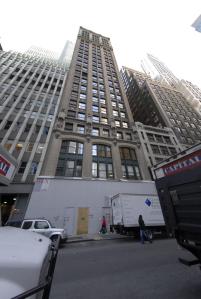 119 West 40th Street
Even a travel company has discovered there's no place like home.
Tzell Travel, which specializes in arranging trips for businesspeople, just signed a long-term renewal for its 64,141-square-foot headquarters in midtown. The company already occupies 47,987 square feet on the entire 13th through 15th floors, as well as the penthouse and part of the basement, and now it will migrate to 16,154 square feet on the 12th floor as well.
With cheap plane tickets just a mouse click away, Tzell insists that real-life travel agents are for more than geriatrics. "Our philosophy is really quite simple and hasn't changed much since 1966," says the company's Web site. "Our job is to provide our clients with the highest quality, most personalized travel experience integrated with today's technology."
With about 75,000 square feet still available in the George Comfort & Sons building, according to Mr. OfficeSpace.com, perhaps Tzell can help the landlord finesse some deals of its own.
In November 2009, the landlord averted foreclosure on the building between Sixth and Broadway, after lenders claimed that L.H. Charney Associates and George Comfort & Sons had defaulted on a $22.25 million mezzanine loan. They ultimately settled the case with the lenders. In March 2010, 119 West 40th still came in third on The Real Deal's list of top distressed properties in the city, with a loan balance of $160 million.
Not surprisingly, the landlord was anxious to hold on to its major tenant. "Not only is the building strategically located-at the epicenter of two dynamic submarkets," said Mark Jaccom of Colliers International, "but the landlord team was extremely responsive, and worked with us tirelessly and aggressively to maintain Tzell Travel's tenancy."
A Colliers International team of Mr. Jaccom, Robert Tunis and Howard Cross represented the tenant. The landlord was represented by Tara Stacom and David E. Green of Cushman & Wakefield.
lkusisto@observer.com