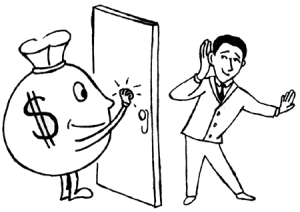 Fred Wilson published a blog post this weekend announcing Union Square Ventures's new $200 million "Opportunity" fund.
The venture market for tech companies has grown significantly since Union Square Ventures was founded in 2003, and this new fund is intended to make USV, which has traditionally been focused on early stage investments, more competitive in the more expensive arena of later stage funding.
A number of local VCs have told The Observer that USV was very unhappy when it could not afford to follow its initial investment into the later rounds of companies like Twitter and Zynga.
Wilson writes that the opportunity fund will change that, allowing USV to:
1) continue to invest in our most established and successful companies, 2) invest in more established networks that have been funded initially by others, 3) invest in special situations like the spin out of a network of scale, and 4) respond to attractive opportunities as the broader market continues to evolve.
It's an interesting development, especially given the warnings Wilson has been sounding on his personal blog, A VC, over the past few months.
Back in December, for example, he penned a post called Doubling Down on the Overpay, in which he wrote that,
"One thing I've seen many VCs do wiith their initial investment in a company is invest more when the valuation gets expensive. They are ownership driven, not valuation driven. So if they originally wanted to invest $4mm at a $20mm post money valuation and buy 20% of the company, they talk themselves into investing $8mm at a $40mm post money valuation so they can still buy 20% of the company. I have never liked this approach. When the price of an initial investment goes up, I prefer to invest less, or nothing at all.
The Opportunity fund would signal then, that USV doesn't see companies like Twitter as overvalued, even if it has become very expensive to reinvest. USV has brought on a new partner, John Buttrick, to manage the new focus on later stage investments. And Wilson writes that many of the investors in the new fund are also LPs in Union Square core funds. That's key, because it aligns the incentives between USV's ongoing early stage bets and the more conservative but capital-intensive plays it now hopes to make on later stage firms.
bpopper at observer dot com – @benpopper