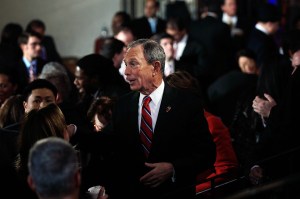 Tired of being the political whipping post, public sector union leaders hit back at proposals from Andrew Cuomo and Mike Bloomberg that they said would hurt their members.
In response to Mayor Bloomberg's State of the City address yesterday, leaders from DC37 argued that his proposed hike in the retirement age and the pension cut would fall unfairly on working-class New Yorkers.
"You have to have some sort of social contract with your population that at the end of the day," said President of the DC37 Retirees Association Stuart Leibowitz. "We're not living in Sparta where if you can't function any more you're discarded."
He also noted the average pension is $17,666 per year and should not be characterized as "rich."
The president of the Public Employees Federation responded to reports this morning that Governor Cuomo plans to cut 15,000 state jobs as part of his Executive Budget proposal.
"We all understand the state's fiscal crisis and the need to find solutions, but any suggestion of reducing the state workforce by 10,000 to 15,000 would not only cripple the delivery of essential services, it would have a chilling effect on the state's economy and undermine the state's fragile recovery. We should all be working together to create jobs, not more layoffs," PEF president Kenneth Brynien said in the statement.
Brynien said that the PEF had yet to receive any formal notification about "massive workforce reductions." Cost-trimming has been high on the new governor's agenda from day one, and it is expected that the cuts to jobs will come coupled with cuts to Medicaid and state education spending.
In Bloomberg's speech, he mentioned changes to the retirement age, firing practices of teachers based on merit, and lower pension rates as possible cost-saving cuts.
"Now I've always believed City workers deserve a safe and secure retirement, but right now, they receive retirement benefits that are far more generous than those received by most workers in the private sector," Bloomberg said in his speech.
Bloomberg said that former Mayor Ed Koch had agreed to devote his energy to dealing with pension reform in Albany.
"We can save $8 million a year right off the bat by consolidating pension systems, an administrative reform that will not affect benefits at all," Bloomberg said.