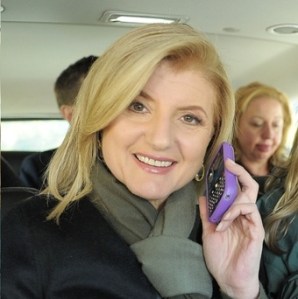 Liberal aggregator Arianna Huffington and another flier were removed from got off a commercial United Airlines plane for questioning after it touched down at La Guardia, reports the New York Post.
Huff Po VP of Media Relations Mario Ruiz got in touch to let us know Huffington was not removed or escorted off the plane–she was simply seated nearest the exit.
"There was no altercation, or anything like it. Though he was clearly agitated. The plane landed without incident and Arianna got off, first, as she was nearest the exit. At the terminal, she did speak for a minute with security who wanted to make sure she was ok," he wrote The Observer.
Huffington had gotten into a disagreement with agitated Long Island resident Ellis Belodoff, 53, after she ignored the captain's requests to turn off cell phones before take off from Dulles Airport in D.C.
"Hey, lady! Don't you speak English?" the man allegedly heckled Huffington.

Huffington later admitted to cops, "I may have turned [my BlackBerry] on too early," sources said.
Don't they know that's how the Huffington Post gets edited on the weekends?
Both were released without charges, and the non-scandal has Huffington VP of Media Relations Mario Ruiz in prime form:
"There was a passenger who seemed upset. Arianna thought he didn't like the snacks. Guess not. Maybe he was an iPhone fan. As you know, the battle between iPhone lovers and BlackBerry users can get pretty heated," he told the Post.
kstoeffel@observer.com :: @kstoeffel