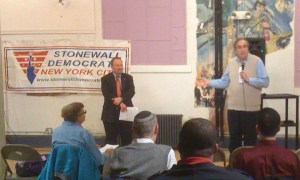 After a few months outside the public spotlight, Brooklyn Assemblyman Vito Lopez appeared before the Stonewall Democratic Club on Wednesday evening to deliver a sobering talk about the future of rent regulations.
"It's very easy to say, 'Oh, we gotta get it done, let's just do it. Rah-rah-rah, and we'll do it,'" he told the two dozen or so people who had braved the snow. "Well, rah-rah-rah ain't going to work."
In recent years, most of the discussion inside the halls of Stonewall has been about the battle for marriage equality, but Wednesday's forum was focused on an issue that stands to prove equally frustrating for local Democrats: housing.
Lopez–who chairs the Assembly Housing Committee–spoke of the need to preserve rent regulations beyond their scheduled sunset on June 15, when thousands of rent-stabilized and rent-controlled apartments could revert to market-rate status, unless a newly Republican Senate can be convinced to extend them.
"Who's the chair of the [Senate] Housing Committee? Not someone from New York City," Lopez said. "It's a Senate Republican from Jamestown. She doesn't even know what a multiple dwelling is. I know her, I respect her, but that's done very deliberately. So it's an uphill battle."
("I have a statewide perspective and in-depth knowledge of housing issues because of my 12 years of experience working on them," said the chairperson in question, Republican Senator Catharine Young, in an email. "I have served on the Housing Committee since I was elected to the Senate six years ago, and took on a leadership position as Ranking Member of Housing while I was in the Assembly, where I had the pleasure of working with Assemblyman Lopez. There are significant issues that must be handled this year, and I look forward to enthusiastically tackling them.")
It has been an uphill couple of months for Lopez. In September and October, even before the Senate slipped away, he was dogged by the tabloids for a number of alleged improprieties–from the high wages paid by his old non-profit to some close associates, to questions about his residency, to a recording of him aggressively pressing a group of seniors for their votes. (Last night had its own travails. After the speech, his chief of staff, Debra Feinberg, was tending to a bloody cut on the assemblyman's hand.)
By his own count, Lopez has had 68 articles written about him since early September–none of them particularly good–and, at least a half-dozen times during his remarks, he made reference to a reporter taking notes in the back of the room.
But Lopez chose to appear publicly–in spite of the press–to recruit Stonewall members to join his cause, and to brainstorm ways they might pressure their Republican counterparts to support extending rent regulations.
"We have a rough, rough road. But I think this organization, I'm really proud of it. It's the only one that allows me to come and speak, so how can I not want to do it?" he joked.
"Does this group have an affiliation that is Republican?" he asked, referring perhaps to the Log Cabin Republicans. "Are they willing to talk with that group? Do they have affiliations with groups outside New York City? Because talking among yourself is really therapeutic. It's almost like knocking your head against the wall. And after you did it a few times, sometimes you feel a little bit better. But in the long run, you're going to get a big headache."
It was a decidely pragmatic speech, for the man who also doubles as the chair of the Democratic committee in Kings County, one of the state's liberal bastions.
"There are some people on the far left that hate everyone that's even in the middle, forget about the other side," he said. "The question has to be, how do we manipulate some of the people who have the power on the other side?"
He brainstormed some possible solutions, asking members of the audience if they had friends or families in other districts, where they might exert pressure on Republican senators, and even suggested the possibility of recruiting former Mayor Ed Koch, who has been aggressively lobbying legislators for nonpartisan redistricting and ethics reform.
"Is Koch still a Democrat?" hollered someone in the crowd.
"I don't know. But listen, on this issue, I would take him under any circumstance," Lopez said. "You can't go further left to win this issue."
Lopez seemed less sanguine about the help being offered by Governor Andrew Cuomo, with whom he met at the governor's mansion on Monday evening.
"I asked him about rent regulations, and the governor said in general he supports it, but he does not want to couple it to anything," he told the crowd. "Especially property tax. And he will not couple it to anything."
In light of that, Lopez said he hopes to tie the rent regulations to the 421a program–a tax credit that was highly popular with the real estate industry before it expired at the end of December. He said he would soon introduce a bill to resurrect the 421a credit, but with the same sunset date as the rent regulations.
"So what we will have is a bill that the real estate industry wants expire June 15, and we will have rent stabilization expire June 15," he said. "That's the plan. And we try to leverage one against the other."
After the speech, Lopez expressed hope that Cuomo–who served as HUD Secretary in the Clinton administration–would ultimately be an ally in his housing battles.
"Andrew Cuomo has a long history in the area of affordable housing, and I hope and expect that his policies will be reflective of his knowledge of the subject and his commitment to meet the housing crisis needs we have of working class people," he told The Observer.
The assemblyman said he had a number of meetings scheduled to rally support for housing issues, and downplayed the notion that the recent spate of bad press would hurt his efficacy in the Legislature.
"The press has not impacted my status as a housing advocate," he said, adding that the lack of elections this year would allow him to "devote 90 percent of my time to legislative issues, with housing being the highest priority."
Which is not to say the press is always invited.
"Anyone who would like to come talk about how we win the day," Lopez had told the group earlier, during his remarks, "other than The Observer, we're having a meeting tomorrow, 1 to 3 p.m."