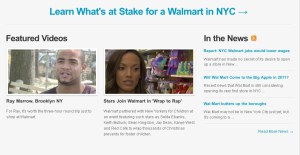 Wal-Mart is already preparing a massive media onslaught in order to convince New Yorkers to convince their elected officials that the big box store should open in NYC. They have even developed a website–called, appropriately WalmartNYC.com–devoted to the benefits that the store would bring to the five boroughs, among them that it would lead to more tax revenue, create jobs and give New Yorkers better access to fresh produce at lower prices.
But they may want to monitor that website more closely. Prominent on the home page's news feed as of press time is an article titled "Report: NYC Wal-Mart Jobs Would Lower Wages." The link sends the reader to a WABC news story that profiles a study by Public Advocate Bill deBlasio and Hunter College that says that big-box retailer would destroy three jobs for every two that it creates.
Needless to say, Wal-Mart has disagreed with that assessment.
A hearing on that matter was supposed to be held this week, but was cancelled due to snow. Another is slated for February 3. The City Council would need to approve any big box store through its land use process, and so far the Council has shown little willingness to do so.
Clink on the photo above to see the web faux-pas.