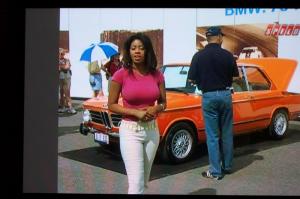 Warren Buffett will step down from the board of The Washington Post Company when his term expires in May, reports The Washington Post.
Buffett's Berkshire Hathaway is the largest, though not controlling, shareholder in the company, and Buffett has been on the board for 26 years. He says he will continue to informally advise The Washington Post Company as necessary.
"I've loved The Washington Post since I delivered almost 500,000 copies of it as a youth in Washington. That love for the product, the Company and the management continues unabated today," he wrote, touchingly.
Buffett, 80, did not say why he will no longer serve, but perhaps it had something to do with their divisive new web video series. Fishbowl DC reports that staffers are furious about it, but most of their rancor is reserved for the newscaster Anqoinette Crosby.
"Almost everyone thinks it sucks. It's an absolute embarrassment. My God, have you seen her twin turbos? The dancing bears are rolling in their graves," an inside source told FishbowlDC. Sources say the premier episode is a source of "teeth gnashing" in the newsroom and referred to the newscaster as "the chick with the boobs."
We kid about it making Buffett quit, but Wonkette seems to think the whole episode is a sign of the apocalypse:
America's strangest joke of a newspaper is the Washington Post, an Onion-style bland suburban daily that seems to shrink deeper into itself each morning. With a news section full of utterly random paragraph-sized chunks from yesterday's washingtonpost.com and a bizarre op-ed section featuring press releases submitted by the offices of politicians and the confused yammerings of senile embarrassments like Richard Cohen, the paper appears to be nothing less than an elaborate satire of Washington's dull insularity and tunnel vision. But, according to accountants, it's actually a very real cash drain on the Kaplan for-profit education scam company that owns the WaPo. So we are also subjected to endless humiliating attempts to make the paper "relevant" or "for the YouTube," and the most recent effort goes where the Washington Post has rarely ventured before: to the black part of town – the black part of town with boobs, in fact.
kstoeffel@observer.com :: @kstoeffel