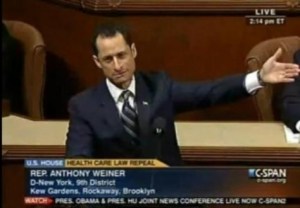 Rep. Anthony Weiner, who has become one of the leading national voices defends the Affordable Care Act, is taking the fight to the streets of Queens this morning, where he will highlight a report that will reveal the cost of the Republican efforts to repeal the bill.
If the health care bill is repealed, as many Republicans hope to do, the Weiner Report says that as many as it 385,000 people in his Queens district will be left uninsured. Another affect of a potential repeal would be an increase to prescription drug prices.
Weiner has been a stringent advocate of the reform bill, making a number of animated interjections into House debates and peppering his public appearances with jokes at the Republicans expense, and his news conference today–he held a similar one in Manhattan earlier this month–shows that he is trying to federal issues a cornerstone of his likely 2013 mayoral run.
The press conference will be held at 2:00 p.m. this afternoon outside of Parkway Hospital in Queens.