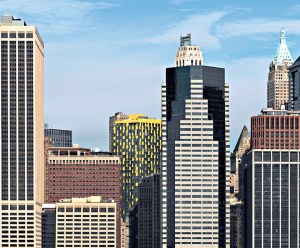 Earlier this week, The Observer noted an apparent lack of new condo development in the city, which could put a strangle-hold on supply and cause housing prices to shoot up. It seems unlikely, due to greater market forces–shadow inventory, foreclosure problems, stalled construction–but one place that could indeed see an impact is the rental market.
Post real estate ace Max Gross has a nice long report about the sorta-kinda disappearance of rental incentives in New York City. One place in particular that incentives still abound is in new buildings, which developers are in a rush to fill. That said, their efforts are soaring like their shiny new apartment towers:
"Yes, the incentives are down," says Gary Malin, president of Citi Habitats. "In December [of 2010], 22 percent of our deals involved some sort of incentive. That's down from 60 percent at the height" of the giveaways.

[…]

Of course, one of the primary reasons these buildings have found success is because they all offered generous concessions like one month (or more) free. And while landlord concessions are certainly down, they're hardly out. One simply has to know where to look.

Silver Towers, on 42nd Street and 11th Avenue, which has had occupants since 2009, is about 95 percent rented but is still trying to lease out its "Sky Collection." These upper-floor apartments start at $3,575 for a studio and go up to $6,300 for a two-bedroom. The building is offering three months free, no broker's fee and a $500 American Express gift card.
Yet many of these buildings are approaching capacity, with occupancies above 80 percent and some sold out. And with the aforementioned lack of new development, rents could go spiraling upward. Incentives will vanish and higher rents will spill over into older buildings, as well.
This reminds us once again of great irony of New York City apartments: When housing is down, rents often tend to be up. As people in the market for a new home continue to put off buying one until prices settle down, it means more renters and more demand, which drives rents ever skyward.
As Andrew Barrocas, CEO of the Real Estate Group, puts it to Gross, "it wouldn't be my first choice to be looking in June of this year."