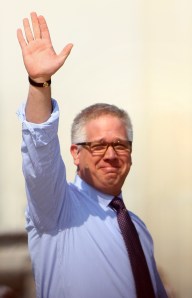 It's hard to face the fact, but Glenn Beck is a role model to a good number of people in this country. That's why it was especially disturbing when he told America to give up one of their kidneys in order to see Spider-Man: Turn Off The Dark. Please, America, do not take this man seriously.
But who knew he met Bono after the show? We did, of course! And how did we know? Twitter taught us, of course!
And what else did the Twitter machine explain to us this week? Well, click ahead and bask in the learning.
Click for What Twitter Taught Us: Glenn Beck Meets Bono and the World Collapses