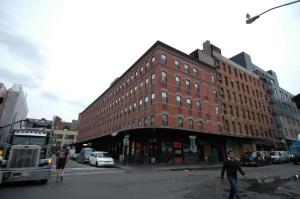 863 Washington Street
Whether the High Line yet smells sweet remains open for debate, but at least for Bond No. 9 it certainly smells of success.
The New York City-based perfumery released a new fragrance this fall in honor of the erstwhile industrial wasteland, capturing the aroma of "wildflowers, green grasses," and just "a hint of industrial grit." Now the perfumistas have followed their noses to a new 1,000-square-foot store at 863 Washington Street.
Finding the perfect location was a challenge, Douglas Elliman's Faith Hope Consolo told The Commercial Observer. "There's a lot of spaces on 14th Street," she said, but the owner told her, "'Faith, I must face the High Line.'"
In order to land the prime location between 13th and 14th streets, Bond No. 9 will take an unusually large space–more than twice its usual 300 to 500 square feet. "We had to create the space," said Ms. Consolo, adding the current retailer is moving to another location within the meatpacking district. "It was like a chess game."
Of course, long gone are the days when one could claim a corner of MePa for a mere spritz. The asking rents in the area range from $400 to $500 a foot, said Ms. Consolo.
Bond No. 9 has been spreading both itself and its scent all over the city–with five locations and a perfume named after almost every neighborhood. Its next stop is likely Brooklyn, according to Ms. Consolo, who represented the tenant, along with Joseph Aquino of Douglas Elliman's Retail Group.
The lease was just signed last week and the store will open in the spring, of course, just when the park is at its most aromatic.
The landlord was represented by Grubb & Ellis.
lkusisto@observer.com