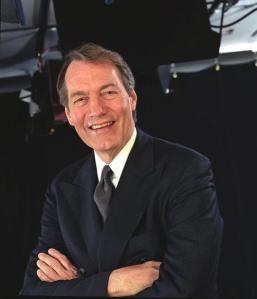 The best part of the day comes around 2:00 or so in the afternoon, when our Twitter feed is temporarily dominated by tweets from @michaelsnewyork. Michael's, the bastion of the media/politics/finance power lunch, has made a successful and entertaining leap into the world of social media with its Twitter account, which will report in a flurry of ecstatic 140-character messages the names of the people who stopped by that afternoon.
It's an exercise in boundless enthusiasm.
in the house:jack welch, barry diller!

in the house: steven rattner,senator chuck schumer!

in the house: suzanne sommers!
The Twitter bio doesn't disappoint either: "Great Food! Great Drinks! Great Party!"
The types of people vary from the masters of the universe to the low-profile insiders, but the effect is always the same. What used to be a widely acknowledged seen-and-be-seen repartee enacted out within the confines of the midtown eatery has become a drama visible from all corners of the internet — or, at least to the account's 989 followers.
And oftentimes there's a collision between these two eras. In the most recent installment of "Lunch with the FT," an infrequent series on the Financial Times' Life & Arts blog, writer Gillian Tett takes legendary PBS interview man Charlie Rose to the restaurant. No surprise at the choice of locale, but the subhead that appears on the site sets up a delicious irony: "Charlie Rose, the anti-Twitter?"
This sentiment is derived from a portion of the chat, during which Rose picked disinterestedly at a Cobb salad.
Moreover, at a time of frenzied bursts of short electronic news, Rose delights in offering an extended, all-too-human conversation.

So, I observe, you are the anti-Twitter!
At this, Rose laughed (he does, in fact, have a Twitter, though whether he is aware of this we don't know).
And then, as they are leaving lunch, "The Anti-Twitter" seemed to encounter Twitter's influence in a way that Tett couldn't have predicted.
But when I return to my desk, a colleague tells me that as we sat eating, Michael's has proudly tweeted to the world: "In the house: Charlie Rose and Gillian Tett!" Those electronic sound bites have a way of intruding; even for a man who is trying to take the old-fashioned art of conversation to a new extreme.
We're waiting for a certain tweet that will bring everything full circle: "in the house: evan williams, biz stone!" Until then, we'll simply be entertained.
Click for Scandal Report: Champagne Mania Makes for A Boozy Golden Globes
nfreeman [at] observer.com | @nfreeman1234