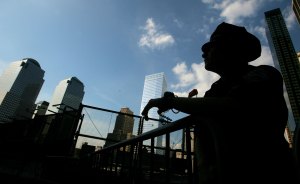 The World Trade Center was the site of two terrorist attacks, and the NYPD is preparing to ensure that never happens again by creating its largest precinct in the five boroughs at Ground Zero. "We are moving forward with the security plan and striving to do so in a way that satisfies the needs of all stakeholders, including the principal need to prevent another attack," Police Chief Ray Kelly said in his "State of the NYPD" address yesterday, according to to the Post.
Yet what if those stakeholders feel overwhelmed by the 673 officers who will be patrolling the area? Back in November, some expressed concern that too many cops could delay the World Trade Center's recovery. After all, not only would this new precinct be the largest in the city, but also the largest per capita, as it will have the smallest patrol area. As many now know too well, the World Trade Center measures 16 acres, which works out to roughy 43 officers per acre.
The precinct's relative size could rise, as well, as The Times points out that the NYPD has not yet decided whether those 673 officers will be comprised of new hires or reassigned ones. Were it the latter case, it would only mean a further drawing down of the ranks at local precincts in order to patrol the World Trade Center. This is not to say crime will rise–it continues to fall along with the ranks of the NYPD–but it is still something to think about as these deployments begin on the tenth anniversary of the attacks.
UPDATE:The Observer contacted DCPI to make sure we had our numbers straight, and here's what they had to say:
It's not at all limited to 16 acres. We're not creating a new precinct. A WTC command post will be established. They'll be resources from the existing 1st Pct, CRVs and other Counterterrorism resources already deployed as well as new officers for the lower Manhattan area — not the WTC alone — and incrementally over time.

The 673 total is all officers, all shifts combined. Their assignment will be years in the making, added incrementally until the entire complex is finished and occupied. Two of the city's biggest precincts, the 75th in Brooklyn and Midtown South in Manhattan, each has over 400 officers. But, again, a new precinct is not being established.
So there you have it. It's a command center, not a precinct, but considering the size of Midtown South and the 75th, both of which cover square miles, that's still a lot of cops for a pretty small area.
mchaban@observer.com