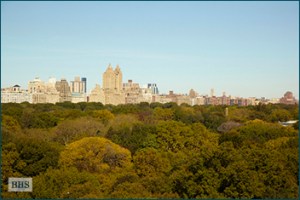 When you've just sold your condo for a record-setting $9,940 per square foot, you can afford to throw down a few extra million on a pre-war pad.
Yes, that's right, we're talking about none other than William Lie Zeckendorf. The vaunted developer who just sold his 41st-floor condo at 15 Central Park West for $40 million, the second-highest sale this year and the highest ever per square foot, has now bought a spread at 927 Fifth Avenue for $3 million above the asking price.
The Post previously reported that Mr. Zeckendorf had purchased Bruce Wasserstein's 14-room spread, which was up for auction for $26 million. He was rumored to have put down $27 million, but it turns out even that was a conservative estimate.
Public records now show that he's paid $29.1 million and some change. That nudges the price slightly above the $4,200 a square foot he was said to have paid, but like every other sale in the city, a bargain compared to his recent successes.
The Wasserstein place is much bigger than Mr. Zeckendorf's self-developed modern digs. Of course, the co-op also has the Mary Tyler Moore glam factor, as well as the legendary chutzpah of having rejected Barbra Streisand. But is it worth giving up one of the city's best views? We're not totally convinced.