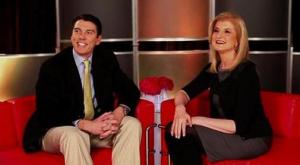 In his bid to turn AOL around by creating a content empire, CEO Tim Armstrong has pulled out all the stops, purchasing the Huffington Post for $315 million and appointing Arianna Huffington as editor in chief.
According to Kara Swisher at All Things D, the pair have a new motto for the empire within an empire. "1 + 1 = 11!" So … either AOL and Huffington post are greater than the sum of their parts, or this is a pretty awesome Spinal Tap reference (All the traffic goes to 11).
Huffington will be put in charge of AOL's many well known content properties, including the recently purchased TechCrunch, as well as more service oriented sites like Moviefone and Mapquest.
The sale is a huge win for early investors like Ken Lerer, who seeded the Huffington Post with $1 million back in 2005.
This is the Hail Mary pass Tim Armstrong needs to execute on his strategy of transforming AOL into a media powerhouse. While many web properties are already in rebound, AOL's revenue was down 29 percent last quarter. Armstrong is betting that HuffPo's growth and Huffington's vision can finally turn things around.
bpopper [at] observer.com | @benpopper