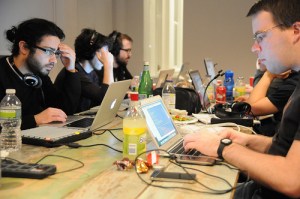 General Assembly's spacious lounge was completely packed with people, pretzels and swag Sunday afternoon as developers and groupies crowded around a projector to watch demonstrations of the 72 music apps produced during the weekend's Music Hack Day hackathon. "What if a bomb went off at General Assembly right now?" one VC wondered aloud to The Observer. "New York's startup scene would be gone."
What could have been the day the music died was instead the day General Assembly (recall: the new, shiny, manicured; okay, we'll just say it, rich, coworking space north of Union Square) felt like a place where New York hackers could make a second home. Maybe we're biased because GA cofounder Adam Pritzker was the first to high-five The Observer on the way in, but concerns that the well-funded community would turn out ersatz seem unfounded.
The organizers also put on a good show for any out-of-town hackers, between the dazzling, collegiate venue and the homegrown APIs from NYC's ExFM, Hunch and Boxee. The weekend was fueled by coffee and pizza and salad and Pop Chips–too many hacker snacks to list here, really–and many exhausted programmers discovered for the first time how comfy those Swiss couches can be.
"Best hack event I've been to yet," said Marak Squires, cofounder of GA resident Nodejitsu. "The accommodations were awesome, they had ample everything, there were no problems with anything, and our hack just magically worked despite logic or reason or time constraints." By "accommodations," he was referring to the couches as well as the food, beer, desks and audio gear provided by GA and the event's sponsors.
But on to the hacks. It took more than two-and-a-half hours to get through them, and they were overwhelmingly good. Seventy-two viable products ranged from the useful–djtxt, which lets guests control the music via text message–to the useless but delightful–Screaminator: you scream into your iPhone and it gives you a grade and publishes the audio online–to the elegant: an invisible violin played with two iPhones, which won the popular vote. (Londoner Matthew Ogle's observation, "YOU GUYS HE MADE AN INVISIBLE VIOLIN," was one of the event's most-retweeted.)
Mr. Squires demo'ed JSONloops, a web-based app for real-time collaborative beatmaking. There was also TweetsOnBeats, where a robotic voice reads tweets tagged with #tweetbeats over a musical beat. There was AutomaticDJ, which uses facial recognition to identify party guests who have their picture taken when they arrive, then uses Facebook to find out their tastes and changes the music accordingly. There was Find You Some Vinyl, which aggregates search across multiple sites that sell records. Hunch CTO Matt Gattis demo'ed Bionic DJ, which lets users control sound with body movements using Microsoft's Kinect technology.
And there were dozens more. "I was here all weekend and had no idea there were so many," organizer John Britton said on Twitter. There were also many more dozens of people who wanted to watch the livestream; only 100 were allowed, 375 were waitlisted.
But by the time demos concluded, around 6:30, the hackers were ready to grab backpacks and head home to end the long weekend by watching the Grammys, from their own couches.
ajeffries [at] observer.com | @adrjeffries
Photo credit: Thomas Bonte