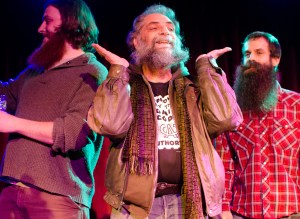 Shortly after the doors opened, a young man with a two-year supersized Brillo pad hanging from his face sipped his beer alone, eyeing the beautiful women who'd gathered at the bar, waiting anxiously for the show to begin. Hours later, he would amass applause and the attention of a roomful of admirers as the winner of the Brooklyn Beard Fest and Stache Bash's "Most Lustrous" award.
On Monday night, the Bell House in Gowanus made a whole-hog conversion into a shrine to the primal, paternal wonderment that is male facial hair. Artists set up stands in the front bar area to sell assorted beard- and mustache-themed trinkets–false mustaches, mustache-shaped pendants carved out of wood and other totems to the postpubescent male face.
More than a competition, the 2011 Brooklyn Beard Fest and Stache Bash was a celebration of the face bush, perhaps the most oft-overlooked signifier of male sexuality. The age of clean-shaven male models has engendered a counterculture of pent-up desire for the beard, and Beard Fest had arrived to create a sexual market where the demand could be supplied. As if to leave no question as to the evening's purpose, event organizers Jin Moon and Heather Dunsmoor had literally sexed up the bill, booking the ladies of Storybook Burlesque for an opening-act striptease and enlisting Hipster Grifter Kari Ferrell to MC.
"We didn't know how people would take it, and it became this kind of celebratory singles event," Ms. Dunsmoor told The Observer.
To maximize their sensual potential, Brooklyn's bearded men needed to be cleaned, polished and documented before being presented. In the back room, stylists from The Parlour Brooklyn in Greenpoint were shaping beards and offering grooming tips for would-be competitors. Meg Costello tamed The Observer's nappy red mess into a more manageable, competition-ready kit and even threw in a straight-razor shave of the back of our neck in the bargain. She cautioned against straight lines; a close shave that abuts a bushy beard creates an unpleasant chin-strap effect, and so the trick is to create some gradation. Men should also condition their beards and layer their mustaches, she advised. Beards are sexy–but only with proper maintenance.
The grooming worked. Soon we were stopped to be photographed by the young proprietress of a lumberjack-focused blog. "Usually, well, the idea of a lumberjack is a man who's out chopping down trees, being manly and building a house," she said. "And he doesn't care about shaving his face. He's manly and has a big beard on his face. Which is really hot. If you haven't noticed, there are a ton of women here. We love beards!"
Onstage, the women of Storybook Burlesque, adorned with press-on mustaches, ramped up the musk factor. The headline dancer, Jenny C'est Quoi, slunk about the stage to "I Am the Walrus," her prosthetic lip hair and tusks creating visual counterpoint to her half-naked frame. She wrapped up the writhing performance by pulling a glittering, limp object from her underwear–was it a fish? it looked like a fish–and dropping it delicately into her mouth.
"I feel about male facial hair the way I feel about a woman's body. It's so stunning and beautiful and mesmerizing and I want to see it," she later told The Observer. But she's not attracted to beards in a physical way. "It's sad. I live in Brooklyn, but…"
Lucky for the night's competitors, there were plenty of women who disagreed, and they made their desire known during the rap battle-style competition held later that night, where audience members voted by applause for winners in categories like "Avant Garde," "Sensitive Stache" and "Tom Selleck."
In the Avant Garde competition, Simon, who sported a handlebar mustache adorned with flowers on the tips, told Ms. Ferrell that a mustache wax of his own making was the secret to his hair's hold and body. Women whistled.
"I've had a beard now for 40 years," Phil, the next contestant, told a crowd of cheering females. "It's like a security blanket, you can play with it, and it blows in the wind."
Most conscious of the beard's sexual possibilities was Bobby Steel, final entrant in the Avant Garde category, an older fellow with facial tattoos who adorned his chin hairs with beads to achieve an effect "somewhere between the David Allan Coe and Johnny Depp look." Plus, he said, "These beads are selected for maximum pleasure."
Toward the end of the program, Neckbeard Telecaster took the stage. Of the 10 members, two played Telecasters and one had an honest-to-God neckbeard. Two had mustaches, five had full beards, two had stubble. One was clean shaven; he sang backup vocals and played tambourine. The winner of the Tom Selleck award played lap steel guitar. As they tore into a churning, moody chunk of country rock, a member of the audience ran his hand down his date's back as far as it could go, and the couple laughed.
Outside, the lumberjack blogger was talking to Nick, a recent Portland transplant. "So you won most luxurious beard?" she asked. Nick said yes. Later, at the bar, The Observer asked Nick if he had really won the luxurious beard competition. "I don't think so," he said, and he raised his glass.
mtaylor@observer.com