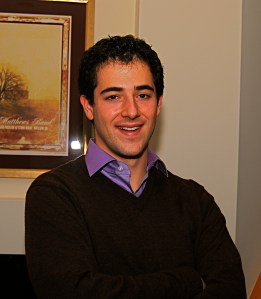 The crowds of investors clamoring for shares in companies at every stage of their development are no deterrent for Darren Herman of Kirshenbaum Bond Senecal + Partners, who announced this morning that his ad firm is creating an early-stage investment arm. He's betting that the marketing and branding power KBS+P boasts will attract entrepreneurs.
As interest in startups seems to rise by the day, it's important for investors to convince prospective portfolio companies that they can bring something special to the market. Mr. Herman thinks an ad firm can fulfill an important need in this environment.
A 12-year veteran of the New York technology scene, Mr. Herman has advised 10-odd startups and founded several others. His experience with East Coast technology companies leaves him confident enough to divulge personal quirks on his website, including his lifelong desire to design handbags and his passion for Jenga and the Madden 2007 football video game.
It's a confidence apparently shared by KBS+P, a New York agency whose clients include Coca-Cola, Church's Chicken, BMW and NetJets. The firm is backing Mr. Herman's plans to do between 10 and 15 early-stage investments of between $50,000 and $150,000 this year, adding Managing Director of Ventures to his existing title. The idea is to follow on rather than lead investment rounds in companies that develop ad technology and display successful integration of design, user experience and presentation with the technology itself.
Cloud computing and other factors are making it easier than ever to launch a product. So to succeed, companies now need to focus on user experience and design at least as much as just coming up with a technical product.
"There's no better thing to leverage than an extremely successful marketing and services organization," says Mr. Herman. KBP+P also plans to exploit its connections with Fortune 500 brands to help them stand out in a crowded technology scene.
It's a crowded market, but Mr. Herman says his firm offers something special to startups. KBP+P also plans to exploit its connections with Fortune 500 brands to help startups stand out in a crowded technology scene.
This morning, the company announced a deal with Yieldbot, a company that culls data about online users with an eye toward helping publishers increase ad revenue by providing advertisers with more comprehensive information about their readers. KBS+P invested alongside New York known quantities RRE, Betaworks, Jerry Neumann, David Tisch and Howard Lindzon, among others. Mr. Herman says that KBSP has already inked another deal, and "We're close to a couple others."
As startups increasingly focus on consumer-facing data-driven products that are easy to create, much of their legwork now involves getting the word out. "If you're an in-the-black agency that can afford to do a lot of the marketing for free, that is one of the biggest expenses for a startup these days," says Rick Webb, cofounder of the Barbarian Group.
KBS+P certainly takes an adventurous attitude toward the ad business. The agency is part of giant holding company MDC, helmed by Miles Nadal, who's known to strike out into unmarked territory.
"MDC's Miles Nadal is a swashbuckler looking to evolve the industry. The traditional agency model of fee-for-services has been under erosion. If KBS+P is literally putting its money where its mouth is, good for Miles to ultimately tie MDC's bottom line to that of its clients," said Michael Duda, co-founder of Consigliere, a firm that seeks to merge marketing with investing.
In other signs of its go-ahead spirit, the firm recently developed a multicultural division, calling it "Ramona," in an effort to move in on agencies that specifically target Hispanics and African Americans. It's also the company behind the idea to let customers to design their own Pumas using in-store iPads.
For all the confidence his agency is displaying in the power of startup investing, he doesn't expect many competitors to follow his lead, at least not right away. "We expect other agencies to follow us into the space should we show success," he says. "Right now, there are very few significant marketing services organizations that understand the early stage ecosystem who have a combination of startup technology operating experience mixed with their agency DNA. One of our key differentiators is that we've been on both sides of the fence and understand what startups need to succeed."
If it's successful, this initiative could usher in a new era of collaboration between startups and ad agencies, where the agencies deploy their marketing and PR firepower to get new companies off the ground and portfolio companies provide innovative approaches to the industry. But for that notion to bear fruit, Mr. Harman is going to have to make judicious decisions in a heated startup environment and effectively insert his firm into the increasingly competitive early-stage investment arena.
mtaylor [at] observer.com | @mbrookstaylor