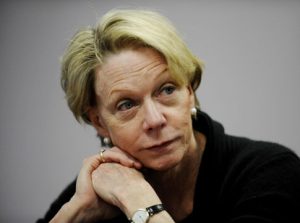 Cathie Black makes the cover of this week's New York magazine in a piece by Chris Smith which covers the magazine-executive-turned-school-chancellor's bumpy start as a Bloomberg appointee, and weighs in on whether she just might be the right (sales)woman for the job- if she can manage to sell herself first.
Between the backlash over her comment last month about birth control and overcrowding in schools, and the public response to recent panel decisions to shut down more than twenty New York City schools, Black is off to a tough start as schools chancellor. In the magazine industry, Black was hailed as a "superstar manager." But, the article contends, is she really a superstar manager, or is she simply a talented saleswoman?
Smith seems to believe that Bloomberg brought her on board to serve in a saleswoman capacity, to help the ideas he generated with Joel Klein go down more easily among a skeptical public. They share the same agenda Bloomberg's been pushing for some time: more small schools, more charter schools, and teacher layoffs that are based on discretion, not seniority. Both love data, particularly as it applied to standardized-testing results.
The article also takes a look at Blacks' second-in-command, Shael Polakow-Suransky, a South African immigrant and Brown alum with actual experience in the field of eduation. Polakow-Suransky, who also (not so shockingly) is a big fan of data and standardized testing, founded a small school in the Bronx; and Smith suggests that perhaps he is "eggheady Mr. Inside" to Black's "glossy Ms. Outside," the brawn behind the operation while she is the beauty at its face.
For a saleswoman, Smith notes, "Black can be surprisingly tone-deaf." In order to achieve real success in her position, Black is going to have to learn to sell herself to a public that is, as of now, less than enamored with her- even if this means re-branding herself. Despite the difficulty of her current position, however, Black remains cheery- in tricky business situations, her proclivity for business self-help books of the "how to shake hands and make eye contact" variety reveals itself.
"Just smile," Black says in the article to students in business class who are learning to pitch their ideas. "Smile at them, and they'll respond to you!"
Other interesting tidbits from the article:
Smith says that Black is "a bit of a flirt"
Black helped get O (the Oprah Magazine) and the Food Network Magazine started
Over the course of her career, she has received nine honorary college degrees
She was the first female publisher of a major weekly magazine, and authored a book called Basic Black
The article suggests that she may measure schools' success the same way she measures that of magazines: with simple data. "I am about data," Black says in the article. "The magazine statistics-I used to say magazine math is really easy. It is about circulation performance, it's about advertising revenue, it's about share of market. You've got pretty simple indicators-do the readers of this magazine like it enough to subscribe? To renew? To buy on the newsstand? And does it have a place in the advertising market? As we look at, over the course of the next months and months-of all of the pilots we have in the marketplace here, in our schools, as we are transforming schools, as we are starting new schools, we need to be rigorous, as we are: How are the kids doing? How are the graduation rates? Are these children being educated in a way that they can go to college and they can be prepared for college? Or if they're on a career track, are they going to go into a career that's going to be promising?"
Joel Klein now works for Rupert Murdoch, who owns the Post, so now the Post is on board the campaign to revamp teacher-layoff policies.
Evidently, this campaign is targeting Cuomo, who an adviser says will be key to its success