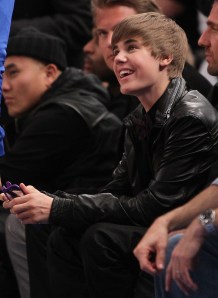 It's not hard to imagine what would happen if a teenaged Justin Bieber fan got the idol's phone number — basically just a lot of screaming. Then, after a few seconds this information actually sets in, and our lucky Belieber would punch in those digits hard enough to break the keypad and wait without breathing for the one and only to pick up the phone.
Horrified parents must have witnessed this scene in living rooms across the country last week after a Bieber fan blog posted what they claimed was the magic sequence of numbers. Even more horrifying, however, was the scene witnessed by 17-year-old Eric McGriff, of upstate New York — each and every screaming fangirl reaching out to Bieber got McGriff instead, because it was actually his number.
TMZ reports that the phone rang "non-stop" until the family was forced to change the number. We imagine this has just increased McGriff's disdain for the newly crowned prince of 3-D concert films. Especially because he never even liked him in the first place.
"Maybe it would be cooler if it happened and we got confused with someone whose music we liked," McGriff told TMZ. "But we don't like Justin Bieber in my household, so getting calls from his fans isn't the greatest thing in the world."
Be careful not to anger the Bieber Nation, Eric! Things can get ugly.
Click for Scandal Report: Champagne Mania Makes for A Boozy Golden Globes