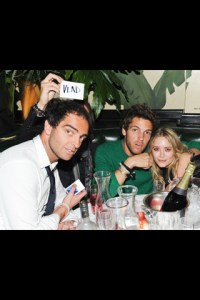 In New York sightings of celebrities are commonplace but sightings of a genuine royal are rare. At last night's Retna opening while everyone was staring at Lily Donaldson and Amanda Hearst, a member of Monaco's royal family slipped in so subtly that no one in the crowd noticed or seemed to care. No one even stopped her to take her photograph. Yes, Charlotte Casiraghi of Monaco's royal family had graced us with her presence
Miss Casiraghi who has an exquisitely pretty face with enormous bee-stung lips, was dressed in a requisite cool black outfit, and said she enjoyed the show.
Was she in town for fashion week?
"No, I'm here to see friends," she said before moving away like a goldfish trying to escape the net.
Later when we mentioned to a veteran New York Times reporter that we'd seen Princess Grace's granddaughter, he said, "Who?"
OK, everyone. Charlotte Casiraghi is the daughter of Princess Caroline of Monaco and Grace Kelly's granddaughter. Her brother Andrea goes out with Tatiana Santo-Domingo and her other brother Pierre dates Italian beauty Beatrice Borremeo.
Wake up, People!
editorial@observer.com