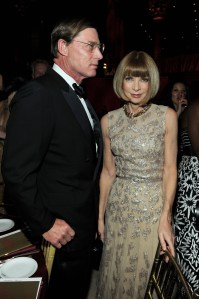 It's the first day of Fashion Week, and we've just started the plunge into endless runways shows, presentations, and after parties. And with constant overlap and unfeasible transportation times, there are going to be a lot of events that just can't make the cut. Which ones to attend and which ones to skip?
One good answer: go with Anna Wintour. We found the Vogue editrix standing by her table at Cipriani last night with boyfriend Shelby Bryan, waiting for their dinner mates to arrive.
The Observer said hello, and then picked Anna's brain for some Fashion Week tips. She would know, after all.
"I always enjoy the young designers in New York," Wintour told The Observer. "Proenza Schouler, Rodarte, Alexander Wang."
Well, no surprises there. But if you get that special kick out of seeing Anna Wintour in her shades as the lights burst on and the models begin their entrance, now you know where to go.