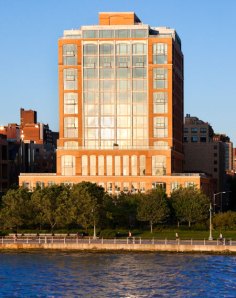 CORRECTION: The Observer has learned Jon Brian Celler was not the buyer of this apartment. We regret the error.
Ever since the penthouse at Superior Ink sold for a downtown record of $31.5 million in November, The Observer has been awaiting the next blockbuster sale in the building. Turns out a third-floor unit has just sold in another record deal. And by record we mean record exec.
Jon Brian Celler, a vice president at Epic Records, bought his new three-bedroom condo on Jan. 18, according to city records, paying $4.28 million for the 1,929-square-foot home in a sponsor sale. The sale was behind an LLC that led to Mr. Celler's old apartment at 260 Park Avenue South while also revealing that his favorite band might just be the Gin Blossoms: Allison Road LLC. (Apologies if that '90s alternarock hit is now stuck in your head, too.)
Mr. Celler seems to be hitting all the right real estate notes, as his old two-bedroom pad went into contract for $2.25 million in December. For an encore, he managed to negotiate a 16 percent discount on his new home, which had been asking $5.125 million. It's a good deal, but also not free, like Mr. Celler's new neighbor Steve Ross got. Granted he did build the Robert A.M. Stern-designed condo.
The third-floor unit enjoys a 19-foot-long entrance gallery that opens onto a 34-foot-deep living room with north and west views of the Hudson and the city's newest gold coast, where big buyers abound from the Perry Street Lofts to starchitects row at the tip of 11th Avenue.
The record industry has seen better days, but Mr. Celler is doing just fine.
Read past Manhattan Transfers here. >>