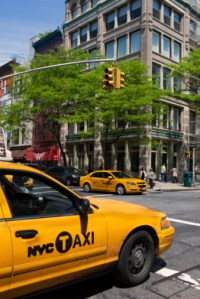 From the glamorous to the quotidian, everything you need to know about New York City's apartment market is contained on StreetEasy, except this: The city's most powerful residential real estate site has begun a quest for new office space.
"We've got half a dozen places that are of real interest," chief executive Michael Smith told The Commercial Observer when we caught up with him, addressing rumors that the company was hunting for a larger office. "Everything that we've gotten excited about has been in either Soho or Noho, mostly." In addition to Silicon Alley, the techies are also eying a couple of spaces in the Village or Union Square.
Their current office is located above the Equinox at Broadway and 20th. "We have looked in Union Square because everybody is used to being there," Mr. Smith said. "But it wasn't our first choice."
The residential market has slowed to an agonizing crawl, but the appetite for the perfect apartment and juicy celebrity gossip continues unabated: StreetEasy was the most Googled term in New York City in 2010, according to a recent celebratory piece in Real Estate Weekly.
Now, as the firm grows from eight employees to 14, and plans to expand again to 20, they're looking for between 6,000 and 9,000 square feet of fab loft space. The search began a few months ago and is led by Janet Liff of J. Liff & Co.
"We like old better than new," Mr. Smith said. "We're generally looking for open space. We've looked at very little Class A office space." The neighborhood is really important, too. "We want a real New York neighborhood," he said, adding, "We care a lot about eating."
That sounds exactly like the swinging (but not-too-swinging) Union Square of the early 2000s. "Union Square is a great neighborhood, but it's a little overdone," Mr. Smith said. "It's gone from foodie to corporate foodie. It's great for companies who want to move from midtown to the new midtown. We were never interested in being in the old midtown, and we're certainly not interested in being in the new midtown."
The firm is, thus, headed "to downtown," Mr. Smith said, referencing the Soho area. (That should be music to some brokers' ears.)
Mr. Smith, a Web entrepreneur, not a real estate guy, has assembled a band of mostly outsiders to bring order to the chaos of residential real estate listings. Nonetheless, he proved himself perfectly capable of dishing about the commercial real estate market. "It's wonderful to have choices," he said. "We've definitely looked for office space when 'How far west do you want to go?' is the only question that they'll ask you."
While landlords still have a lot of power, tenants can hold their own in terms of rents and concessions. But isn't it supposed to be a landlords' market again? "That's bull," said Mr. Smith, adding, "There's been a lot of leasing activity and the commercial market responds really quickly to that, but let's not kid ourselves: There's a lot of property that's sitting on the market."
lkusisto@observer.com