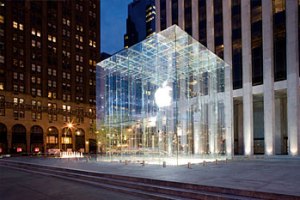 Apple has begun a super-secret quest for a store in historic Grand Central Terminal, potentially creating a hive of buzzing techies in the glamorous Beaux Arts landmark.
Reliable sources tell The Observer that the maker of ubiquitous iGadgets–from computers to cell phones–hopes to open a store in the transportation and retail hub, though it has yet to begin the long approval process necessary for opening in a city landmark.
Apple wields a famously iron fist over all its major announcements and has been rumored to back out of deals if anyone speaks to the press. To wit, when contacted by The Observer, most of the parties potentially involved wouldn't even blink twice for yes, although they tellingly would not deny it either.
Friendly receptionists became suddenly cagey when we dropped the A-bomb. "We're not authorized to speak about that," said the woman who answered the phone for Grand Central's leasing agent, Williams Jackson Ewing. Likewise, a lovely Southerner at Dallas-based Open Realty, which represents Apple, sighed almost imperceptibly and noted that Apple's broker, Jonathan A. Siegel, is away on business.
For its part, MTA Real Estate/ Retail+Leasing division, which will have the final word on any new store, offered this careful response: "We select tenants through a public process that features a formal request for proposals," said Aaron Donovan, a spokesman for the MTA. "We don't comment on prospective tenants outside of the process. Robert K. Futterman, which handled Apple's first three New York spaces, declined to comment.
Apple, unsurprisingly, said the company hadn't made an announcement about a new store.
The riddle remains: Where can you put a phalanx of high-tech gadgets and hundreds of techies and tourists alike in historic Grand Central? Banana Republic and Kenneth Cole, which have stores fronting 42nd Street, have leases expiring, according to one broker, but the store is not expected to take those spaces. Instead, it sounds like the company plans to put its high-tech shrine right in the terminal.
Apple is most famous for its glass cube on Fifth Avenue (the fifth most-photographed site in New York City) and a similar store on the Upper West Side. But the company also has a track record of historically sensitive design: namely, its first New York store, inside a Soho post office, its warehouse store in the Meatpacking District, and one in historic Georgetown, in Washington, D.C. Neither the Landmarks Preservation Commission nor the architect of its previous stores, Bohlin Cywinski Jackson, have been contacted by Apple.
SLIDESHOW: Apple's Last Stop? Grand Central