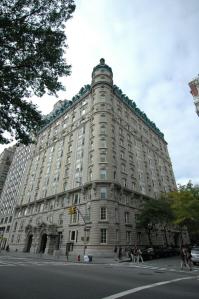 Lee Harris Pomeroy has worked on such New York City landmarks as the Plaza Hotel and Grand Central Terminal, though perhaps none is as dear to his heart as the penthouse the architect created atop 285 Central Park West.
He had lived in the 1900 landmark for more than a decade with his wife, the author Sarah Pomeroy, when the couple managed in 1984 to cobble together some air rights, a one-bedroom, two maids quarters and the cupola, which Mr. Pomeroy then fashioned into a home the likes of which are rare even in New York. While he would not say how much the couple paid to combine and construct the 4,000-square-foot property, Mr. Pomeroy allowed that, "You could have assembled a block on 42nd Street easier."
He also admitted it was not nearly as much as the $9.125 million the couple just sold the three-bedroom for, according to city records.
Describing the project on his Web site, Mr. Pomeroy writes "The image of Greek goddesses embedded in laminated glass doors is the focal point of this project in the historic St. Urban, one of New York City's grand old turn-of-the-century apartment buildings. A modern, light-filled, two-level penthouse has been inserted into the old mansard roof and a turreted dome." The cupola was turned into a two-story library that leads to a pocket-sized terrace. The architect, in the grand tradition of Central Park West, he said, added a light atop the turret. Two wings flow off the turret, and lead to a bronze and blonde wood kitchen. A double-height living room has huge skylights.
It has been a long saga for the home, which was first listed in April 2008 for $16.5 million before taking six prices cuts to $7.25 million in July the following year. Four days later, the price had been bumped up twice to $7.9 million before coming off the market altogether in November. Lisa Lippman and John McDermott of Brown Harris Stevens had the listing then, which never resurfaced, and Mr. McDermott told The Observer at the time, "I've been through this myself, because I renovated a townhouse downtown and it was my baby. It makes you want to have an elevated price, because it means so much to you! It started out, really, too high." Still, it looks like by holding out, the Pomeroys made out pretty well in the end.
And they still have a landmark to call home, albeit it one of a different sort. No sooner did the old penthouse close on Jan. 27 then the next day the deal was done on their new two-bedroom at the recently converted-to-condos Manhattan House. There they bought a 1,515-square-foot unit on the 11th floor of the East 66th Street complex for $2.19 million. Designed by SOM's Gordon Bunshaft, he of Lever House and 9 West 57th fame, Manhattan House is considered by many to be the first modernist apartment building in the city, still one of the finest and a prototype for generations of imitators–not unlike Lever House was to the American office building.
The Pomeroys' new home is less than half the size of their old one, and it may only have four rooms compared to nine before, but there is one thing it has: convenience. "Particularly, my wife wanted to live on the East Side, she wanted to live near her friends, clubs and particularly Hunter College, where she teaches part-time," Mr. Pomery told The Observer. "We're trying something new. It'll be different, but at least there is room for our piano and harpsichord, which are coming with us." Those will be going in the 400-square-foot great room, one imagines.
He also said the building's pedigree was appealing: "Manhattan House is an iconic structure and it's a different way to live on the East Side, than being in a townhouse or an old co-op."
Speaking of old Upper East Side co-ops, the buyer of the Pomeroys' old penthouse is A.W. Foley, who lists an address at 1 Gracie Square. His full-floor four-bedroom co-op located halfway up the 1929 building came on the market Feb. 2 with Corcoran's Deanna Kory and Christine Morgan for $4.6 million.
Read past Manhattan Transfers here. >>