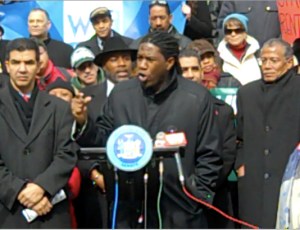 City Councilman Jumaane Williams slammed both the Bloomberg and Cuomo administrations at a rally for rent regulations today at City Hall, saying that those in power do not care about the middle-class or the poor.
"What they're saying is that they don't want to tax the rich people, but they'll tax the middle class and the poor people. And they love to do that to balance their books," Williams said about the executive branch in both Albany and New York City. "The powers that be are not even now hiding their disdain for the middle class and the working class."
He added, "They're like 'Screw it, we're not even going to try to hide it anymore. We're just going to tell you blatantly, we don't care about the middle-class; we don't care about the poor. All we care about are the rich people.'"
Williams has been in something of a pugnacious mood as of late. Yesterday he got into a brief scuffle with security guards at Chase bank when he tried to withdraw his money from the bank after leading a protest against the bank's mortgage policies.
The rally was hosted by Senate Democrats to call for the renewal and expansion of rent regulation measures within the state budget for FY2011-12. The current regulation laws expire in June and if they are not renewed, a "tenant tax" could force more than a million New York residents from their homes.
"If we pass the budget with rent regulations expiring this year, it will be the single biggest tenant tax in the history of this state," said Brooklyn Senator Daniel Squadron. "Make no mistake. These tenant protections disappear, that's a tax on millions of tenants that live in the city of New York and in the surrounding counties. And that's one tax we absolutely cannot afford in New York."
Democratic Senator Adriano Espaillat, who is on the Senate Housing Committee, has submitted a proposal that would renew and strengthen the current tenant protection measures. The measure would re-regulate apartments that have been deregulated because of a loophole in the current law, reduce vacancy bonuses for landlords, and restrict rent hikes and surcharges. The bill's advocates insist that it be tied to Cuomo's budget and secured by the time the previous regulations expire in June.
"We're going to make sure that we maintain rent regulation because New York City needs rent regulation," said Williams. "We need rent stabilization. We need rent control. Because the people over there wouldn't be able to live the high lives that they live if we weren't here."