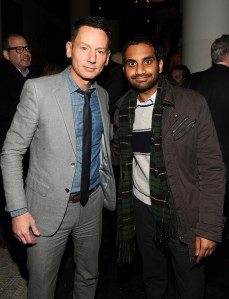 Last night at The Ace Hotel we found ourselves staring at a bevy of half-naked male models standing silent and still for hours.
"I heard they're all on mushrooms," a partygoer told The Observer.
We hoped they were, given how long they had to play mannequin. It was GQ's Best New Menswear Designers party, and if these models had ingested some hallucinogenics beforehand perhaps the paralysis would have been more interesting.
Aziz Ansari was staring at the models as well. We dodged a man with a cigarette lodged through a hole where an earring would more logically go — "No Guts No Glory" read the tattoo on his bald scalp — to find the "Parks and Recreation" actor just below the risers where the models stood like totems over the party.
"Literally one second — go!" Ansari said.
Favorite dude-model of the night?
"My friend Dennis, he's over there, he has his shirt off. Or, he's not shirtless right now but if he was shirtless everyone would be going nuts."
OK, so all this testosterone can get, um, confusing. Ansari told us that, no, he's not questioning his sexuality, but he did have a fashion brainstorm because of the event.
"I'm just glad I found my look for the winter, and that's green pants, toboggan, no shirt."
And a final fact, for the Aziz Ansari completist: he's a big hors d'oeuvres guy.
"I'm just a big fan of pigs in a blanket, so it's a win-win," he said.
Mustard?
"No mustard. Ketchup, all the way."