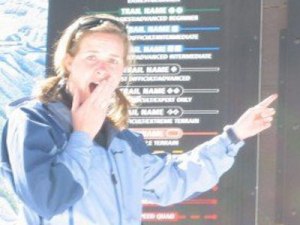 Vice presidents at Goldman Sachs don't tend to fly the coop. It's a good gig, with a high-dollar salary, a hefty annual bonus and perks, not to mention a chance to scramble up the ladder to the promised land of partner-hood.
Katie Baker was never the typical Goldmanite, though. Banker by day, blogger by night–Ms. Baker wrote about sports and more for sites like Deadspin, Gawker and The Awl in her spare time (and, O.K., sometimes on the clock too), without ever catching the attention of her co-workers. It certainly helped that she limited her writing to extracurricular topics.
"If you're the idiot version of Katie, you start an anonymous column on Dealbreaker," said an admirer and fellow blogger. "She never traded in that–unless Goldman is busy trading in lacrosse futures," he joked.
Indeed, Baker's essay on "lacrosstitutes," followed by a memoir of tween chat room misadventures, won her a growing cadre of devoted readers.
One of those fans was ESPN columnist Bill Simmons. Last week, he announced he had poached Ms. Baker for a new sports and pop culture blog, alongside writers Chuck Klosterman and Lane Brown. Ms. Baker, whose last day at Goldman was Tuesday, declined to comment, but given the usual pay scale for bloggers, becoming a full-time writer presumably dented her annual income.
Even as Mr. Simmons courted her, the Goldman boys were clueless about her online alter ego. For instance, over drinks after work recently, Ms. Baker told her colleagues of a trip to the NHL's Winter Classic in Pittsburgh.
"That's nothing," one replied. "I read about this one guy getting a beer with [hockey commentator] Barry Melrose."
The guy was Ms. Baker herself; she'd written a post about it for Deadspin.
"They were quoting her story," Deadspin senior editor Tommy Craggs said. "Katie had to just stand there and nod."
Blogging while embedded among the Illuminati of I-banking presented certain challenges. The company blocks Gmail for regulatory reasons, so Ms. Baker used her Goldman email and instant-messaged with editors from her cell phone. Worried that Deadspin's, shall we say, phallo-centric lexicon might flag an office security system, she and her editors exchanged Word document drafts more redacted than an S.E.C. filing. They bore the stealthy subject line: "Financial matters."
kstoeffel@observer.com :: @kstoeffel