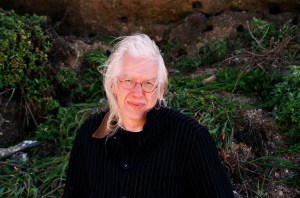 The press release for "The Times Square Show" promised "THE BIGGEST MACHINE ON EARTH," "ART POLITICS PERFORMANCE + FILM," "Exotic Events!" and "More Than You Bargained For." It was June 1980, and the art collective CoLab—about 50 artists, among them Kiki Smith, Jenny Holzer, Charles and John Ahearn—had taken over a derelict four-story building at 41st Street and Seventh Avenue, formerly a massage parlor, and filled it with a disjointed barrage of multimedia art. They were trying to combine the sleaze of Times Square in the early '80s with the dysfunction of the post-Soho, post-Minimalist No Wave movement. James Nares showed a film called No Japs at My Funeral. There were peep shows and live nude models. One room was just an orange punching bag hanging in front of a wall of graffiti, billed as a "group mural." Jean-Michel Basquiat, then 19 years old, scribbled "FREE SEX" across the entrance. The lineup also listed a "feature film," untitled, by one "Jim Jarmish" [sic].
One of the masterminds of the show was described in the publicity materials as "already notorious for having executed his dog on video tape." This was Tom Otterness. In 1977, a few years after moving to New York from Wichita, Mr. Otterness shot and killed his dog on camera for a video called "Shot Dog Film." The piece was too much even for many of his anarchic contemporaries. When The Observer visited the artist's Gowanus studio, he anticipated our question.
"Oh, let me guess," he said. "Go ahead. Ask."
Why did he kill his dog for the sake of video art?
"What the fuck do I do with this?" he said. He grew visibly upset. "Certainly the scene it was part of-it was in the context of the times and the scene I was in." He began again. "It is something I've grown to understand that nothing really excuses that kind of action. I had a very convoluted logic as to what effect I meant to have with that video. Whatever I had in mind, it was really inexcusable to take a life in service of that."
A foot-tall bronze statue of a dog, done in Mr. Otterness' comic, through-a-glass-darkly style, sat on a desk facing its creator, not quite smiling.
You've probably seen Mr. Otterness' work even if you have no idea who he is. His cartoonlike bronze sculptures are all over the world—in New York at the 14th Street A-train station and in Rockefeller Park in Battery Park City. His newer work, some of which will be shown at a solo exhibit at Marlborough Gallery, on 57th Street, at the end of the month, has only become gaudier since the No Wave days. His bio for "The Times Square Show" still sums up his style: "toy-like but horrifying." At the massage parlor in 1980, he exhibited a suit made of solid lead and sold plaster figurines, like miniature versions of what's now in the subway station, for $4.99. Though he now builds large-scale bronze sculptures on commission for display in parks, libraries and the backyards of the fabulously wealthy, Mr. Otterness has remained at heart a street artist, perhaps at the cost of his legacy.
"To me, it's the idea of, who do you work for?" he told The Observer. "Do you work for rich people at the top, or do you work for a popular audience? Clearly there are risks from a fine-art view of taking this approach. I put my money down. I made my bet on this. What it really means is the work loses prestige in the art world because of its popularity. That's the dilemma."
There were severed limbs made of plaster, bronze and stone scattered across the studio. On a dusty table in a cluttered back room sat a large arm with exaggerated features that looked like it belonged to a colossal Mickey Mouse. A 4-foot-high set of feet rested on a pedestal, cut off just above the ankles. A perfect sphere of a head, about 3 feet in diameter and connected to the top of a 14-foot ladder-cum-neck, looked down on the room with a menacing smile.
Mr. Otterness was carving the face into a clay statue of a frowning cartoon lion when The Observer arrived. His black shirt and blue jeans were covered in dust, and his long, white hair was pulled back into a ponytail. Behind a large worktable stood a plaster mold of Mr. Otterness' unfinished sculpture The Consumer, a fat man with a long ramp going into his mouth. On the ramp are the cast members of late capitalism: factory workers, infrastructure, trucks carrying shipments of goods and services. These are to be digested and fall as pennies from the sculpture's rear end.