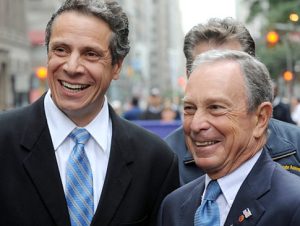 Bloomberg administration officials feared for the worst when Andrew Cuomo prepared to unveil his FY 2011-2012 budget, and today, some of those worst fears were realized.
Cuomo's initial budget zeroes out the city's revenue sharing again, after the city was promised that the funds would be restored during last year's budget cuts. Plus, Cuomo's budget has not yet included the  mandate relief that he promised in the State of the State, included relief in pension obligations, special education funding, and those dreaded (from Bloomberg's perspective, at least) "first-in, last out" teacher rules, which, no matter what their effect in the classroom, are a city budget buster.
"We can't only look at one side of the equation," Bloomberg says. "We need relief from unfunded State mandates, as well as changes in State law that would allow us to save money, particularly where we can find ways to save money that would not cost the State a dime. Without those changes, we will be looking at thousands of layoffs in our schools and across City agencies."
That said, Bloomberg seems to at least not in the direction that Cuomo had to make some very tough budget decisions, and commends him on following through on his campaign promises.
"When Andrew Cuomo ran for office, he made it clear that the State needed to make deep spending cuts – cuts that would have a major impact on our schools, our health care system, and our social services. With this budget, he's making good on his word – this budget cuts at least $2 billion from what Albany had repeatedly committed to New York City, including $1.4 billion in education aid. The Governor has inherited a very difficult situation, a broken budget process, and we know he has tough choices to make."