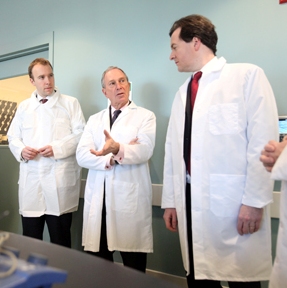 Mayor Mike Bloomberg paid a visit to the family of local Jewish radio host Nachum Segal, whose brother, Rabbi Moshe Segal, died last week, and the visit was captured on video and posted to the Yeshiva World News website.
In the video, the Segal family notes that their brother was in the emergency room for 73 hours before he died and they wonder what can be done about emergency room overcrowding.
"It's going to get worse with the health care bill and with the government's cutbacks," Bloomberg said. "All of these costs keep going up. Nobody wants to pay any more money, and at the rate we're going, health care is going to bankrupt us."
Bloomberg also names two keys to reforming the health care system, both of which are pet causes of his: immigration reform and tort reform. And he touts his own administration's efforts to increase the life expectancy in New York City, including their effort to reduce smoking and reduce pedestrian fatalities by adding bike lanes.
The mayor also said that he expects President Obama's signature health care reform bill to be essentially killed by the G.O.P.
"I think the Republicans will unfund it," he said. "Having said that, you still need some solutions. And saying 'no' is not a solution. So I'm not — you know, some stuff I don't like, but being against everything is meshugganah as well," using the Yiddish term for "crazy."
Bloomberg however did favor one thing that Obama pushed in his health care bill but that has since been stripped out due to conservative outrage: consultation over end-of-life care.
"If you show up with prostate cancer and you're 95 years old, we should say, 'Go and enjoy. Have a nice (inaudible). Live a long life. There's no cure, and we can't do anything,'" Bloomberg said. "If you're a young person, we should do something about it. Society's not ready to do that yet."
Take a look: