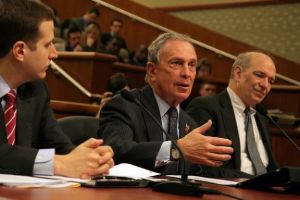 Mayor Bloomberg released his preliminary budget today which aims to close a $4.58 billion deficit without increasing taxes.
Bloomberg's budget outlines a plan to soften the worst of the blows suffered from state funding cuts to education and city services. The plan increases education funding to compensate for some of the loss while relying on modest cuts to city-funded services, changes to the State budget, and a growing economy to make up the difference.
The bright spot on the horizon: the tax revenue, the numbers for which are projected to be higher than originally anticipated. This is in large part thanks to the city's above average rate of job creation, its high number of tourists, and its strong commercial real estate market. According to the mayor's office, these "economically sensitive" tax revenues- which encompass sales and real estate taxes, among others- are approaching pre-recession levels, though they're not quite there yet.
The bad news: education. Bloomberg's budget provides a $1.86 billion increase to help replace the combined $2.25 billion lost in state funding and federal stimulus money. To completely balance the budget, however, 6,166 total teaching positions will need to be eliminated, including the previously reported 4,666 layoffs.
The budget uses some additional city funds to compensate for lost state funding for what it considers to be "the most essential" social, health, and criminal justice services; and the rest of the cuts will come out of a rental subsidy program, money for senior centers, and youth employment positions.
The success of this budget is contingent upon three changes on the state level. In order for the plan to work, the state must provide an additional $200,000 in education funding to New York City, reform a fund that guarantees annual payments to retired NYPD and FDNY members, and a more equitable distribution of state revenue sharing funding. If the state does not accommodate these requests, Bloomberg will have to make further reductions to city services.
The budget plan also reduces the city's ten-year capital construction plan, which is anticipated to save more than $800 million over the course of ten years.
"Our sound management will help avoid the worst impacts of state cuts, but we can't compensate for the full loss in state funding," Bloomberg said in a statement. "We're ready to do our part to help the state, but we don't deserve to be penalized for our responsible actions. If the state does not come through, layoffs and service cuts will be more severe."