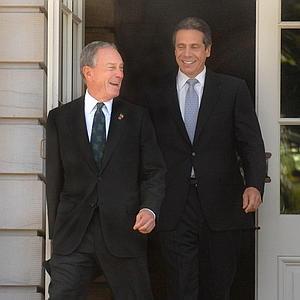 Mayor Bloomberg took a whack at Albany at a morning news conference, blaming Gov. Andrew Cuomo's cuts to the city and the continued imposition of state-sponsored mandates for everything from the proliferation of potholes to potential cuts to the uniformed services
Bloomberg said that a lack of city resources has led to a lag in services and characterized delays in filling in potholes as a symptom of greater financial woes.
"This is just the beginning of dialing back if we don't get some help in terms of relieving some of the mandates we have," Bloomberg said. "The cuts from the state are going to be very difficult to deal with, and whether the cut is in education or Medicaid or something it's all fungible and it goes through the whole system… unless we can get some help from Albany in reducing some of the mandates, the future is going to mean even more sacrifice and fewer abilities to respond quickly."
A question about firefighter and police unions' dissatisfaction with possible cuts prompted Bloomberg to call for pension reform, citing a nine percent growth in pensions' share of the budget over the last decade. He petitioned Albany for reforms that he said would cost the state nothing while giving the city more financial flexibility, such as measures granting the city more leverage in negotiating public workers' pensions.
"Albany has run out of money," Bloomberg said. "We are going to get less of our own money back from Albany. OK, we're all part of the state, we've got to help the governor. But we've got to find a way still to provide the basic services…we can get the money if some of these mandates are no longer there."
Bloomberg reiterated his pledge to not raise taxes, but warned that maintaining this promise would yield some painful sacrifices.
"We have to make a decision, "Bloomberg said. "Do we want to send out Christmas bonuses or have more teachers? We can't raise taxes, we're not going to raise taxes, so we're going to have to figure out ways to reduce our expenses."