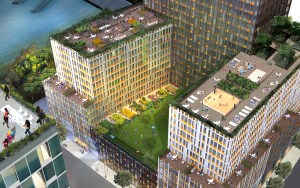 Michael Bloomberg announced what he termed the creation of a "spectacular waterfront community" at Hunter's Point South that will include parkland, an 1,100-seat eco-friendly school and retail space.
At least 75 percent of the 5,000 rental units will be set below the market rent for surrounding neighborhoods, and the housing lottery will give preference to local residents.
New York City purchased the land from the Port Authority for about $100 million, Housing Preservation and Development Commissioner Rafael Cestero said. The city's total investment in the project, which encompasses subsidies for the construction of apartment units and financing for subsurface infrastructure like sewers and the park land, will come to about $130 million.
SLIDESHOW: Building a Brand New Neighborhood in Queens.>>
When introducing the project, Bloomberg was quick to parry any potential criticism about the cost of such a sweeping project, invoking his theme of making strategic investments to avoid tax increases while directing a barb upstate.
"Just because we are facing budget gaps and must do more with less doesn't mean that we can walk away from the investments that will keep our city strong for decades to come," Bloomberg said. "I talked about that in Albany on Monday: We have to have a future at the same time we have to find ways to do more with less."
Phipps Houses, Related Companies and Monadnock Construction won a joint bid to develop tHunter's Point South, and will be aided both with tax-exempt bonds issued through the Housing Development Corporation and federal housing tax credits for the low-income units.
Bloomberg said ground has already been broken for the school, which should be ready for its inaugural class by fall of 2013, and that construction of the residential buildings should take about 24 months, beginning this summer.
This is not the first attempt to develop this land, which was conceived of as the space for an Olympic Village during New York's failed 2012 Olympic bid. The development will be the largest New York public housing development since the 1970s.