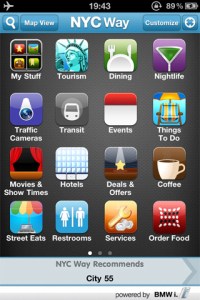 If you're a company with serious cash lying around and it's not being invested in tech start-ups, you must have missed the memo.
Luxury car kingpin BMW announced a $100 million venture fund today, debuting with an investment in New York based My City Way.
My City Way is a mobile app that provides users with information on public transportation, parking availability and local entertainment for over 40 cities in the U.S.
Wait, public transportation? Is that for when you're touring Manhattan and don't want to risk a scratch on your Bimmer?
All kidding aside, the funding is a triumph for the city's efforts to grow the tech sector. My City Way was one of the winners of NY's first annual Big Apps competition and received its seed round investments from Roger Ehrenberg, First Mark Capital and the NYC EDC. Its founders even quit Wall Street to try out this tech stuff! Mazel!
bpopper [at] observer.com | @benpopper