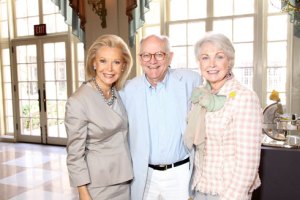 Broadway producer, theater operator and former Yankees owner Robert Nederlander never staged Young Frankenstein in his numerous venues, but he has nonetheless decided it's time to put on the ritz at home. He has just purchased a colorful two-bedroom co-op in the Ritz Tower for $2.25 million, city records show. This is a month after he sold his three-bedroom home four blocks north at 510 Park Avenue, where he had lived for decades with his wife Gladys, who passed away almost three years ago.
It appears evident why Mr. Nederlander—a man known for as much flare as the shows he produces—was attracted to the 12th-floor Ritz redoubt: It is like living inside a rainbow! With walls and matching furniture the color of Tropical Skittles, the home once belonged to the Duke Family, of tobacco and university and record-setting mansion fame. In addition to the family trust, the deed lists Angier Biddle Duke Jr., son of the well-known diplomat who once wrote for the Southhampton Press, and his stepsister Letitia Lynn.
"Traditional moldings, lovely architectural details, a hand painted mural in the guest bathroom, extensive built-ins and an abundance of closets fit for fashionistas will welcome the discerning buyer," boasts Barbara Evans-Butler and Caleb Loftus' Stribling listing. Sitting on the southwest corner of the landmark hotel, the rooms, which include a library/dining room and two baths, are all "sunkissed," and there are, of course, 24-hour hotel amenities. Also, a pesky 3 percent flip tax.
The home was on the market for only two months before it went into contract, according to StreetEasy, and Mr. Nederlander got a nice discount on the $2.4 million asking price—though the $2.25 million he paid was slightly more than the $2.2 million price set when the home came on the market for a couple months in the middle of 2009.
Nonetheless, Mr. Nederlander can no doubt afford it, as his 510 Park home, which was unlisted, sold for for $3.9 million to Olshan attorney Lawrence Friedland, according to city records.
Read past Manhattan Transfers. >>