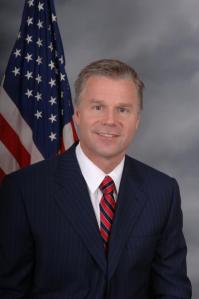 As the representative for Western New York's out-of-the-way 26th congressional district–which counts Batavia and Lockport among its largest cities–and one-half of what was, until recently, a two-member Republican delegation, Congressman Chris Lee didn't attract a tremendous amount of attention during his two years in the House.
But in the wake of his abrupt resignation today, following a Gawker story about him sending shirtless photos to women on Craigslist, it's worth noting this Roll Call piece from last July–titled "Boehner Troubled by Unseemly Behavior"–which mentioned Lee as one of the House Republicans rumored to have a penchant for partying. The piece, which is behind a paywall, followed a Page Six item about Nebraska Republican Lee Terry, and said "Washington is abuzz with rumors of late-night partying and of House Republicans inappropriately hanging out with female lobbyists."
Several Republican lobbyists said the Terry incident is part of a larger concern involving a group of House Republicans and lobbyists, including Glenn LeMunyon of the LeMunyon Group, who regularly party with female lobbyists.

"On the Hill, there's a lot of older men that just go home when they're done with votes," said the longtime Capitol Hill Club member who overheard Terry's remark. "Then you have a smaller group that likes to knock back a few and have a good time."

Among them are GOP Reps. Bill Shuster (Pa.), Sam Graves (Mo.), Chris Lee (N.Y.) and Duncan Hunter (Calif.), several sources have confirmed. None of the Members have been accused of any improprieties.
In the piece, then-Minority Leader John Boehner said he had spoken directly with some members, though he did not say whether he had spoken to Lee. It's unclear at the moment whether the party leadership may have put pressure on Lee to resign in the wake of today's revelations, or if it was a personal decision. Lee told Fox News earlier today: "I have to work this out with my wife."