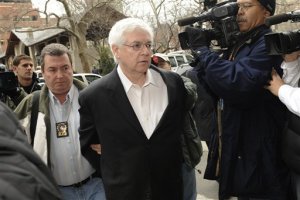 Political consultant Hank Morris was sentenced today to a prison term of sixteen months to four years without probation for his involvement in a pay-to-play kickback scheme while he served in the comptroller's office.
Morris, who pleaded guilty to felony charges last November was caught when then-Attorney General Andrew Cuomo's office launched an investigation into the state pension fund under former Comptroller Alan Hevesi.
Attorney General Eric Schneiderman's office reports that from January 2003 through December 2006, Morris misused the pension fund's alternative investment portfolio, charging sham consulting and placement fees and using these payments to cozy up with political allies. The arrangement produced tens of millions of dollars for Morris and his friends, along with other individuals working under Hevesi's administration.
"Today's sentencing decision by the Court sends a strong message to New Yorkers that those who abuse positions of power to line their own pockets will be held accountable by this office," said Schneiderman.
The sentence was the maximum available allowed by law.
Hevesi and six others have also pleaded guilty to felony charges for their involvement in the scandal, and will receive sentencing in the coming weeks.